Hey, it's André…
Happy Friday!
It's just me today.
Shawn is off with his best friend driving a Porsche 911 GT3 RS around New Hampshire Motor Speedway. The lucky git!
If that isn't enough fun, his next stop will be the Harvard Book Store in Cambridge.
… and here I am stuck at my desk hammering away at this email.
(Cue sad violin music.)
Anyhoo…
A couple of months ago, an old friend, Alex Cattoni (of Copy Posse fame), reached out to me: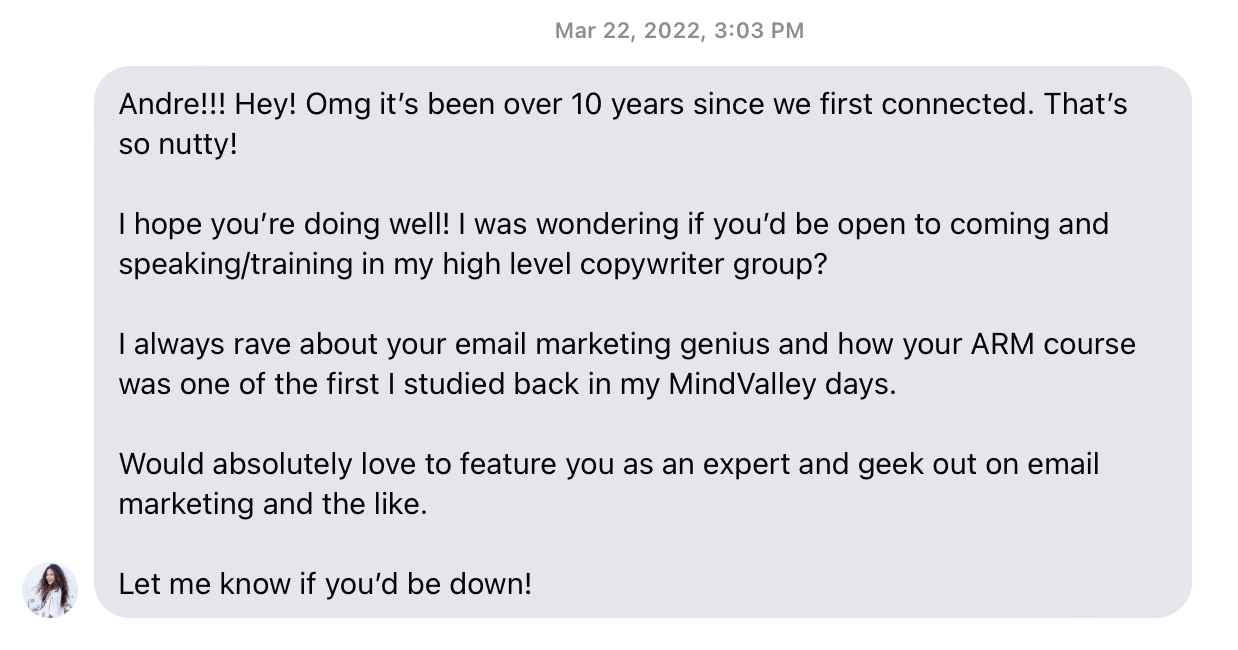 Being the good friend I am, I threw Shawn under the bus. (The truth is, he loves teaching in front of a camera.)
So a few weeks ago, Shawn did the video podcast with Alex.
The topic was how to reverse-engineer anticipation and excitement.
I think you're going to love this.
Why?
Because Shawn builds up to the 'one thing' that separates the 99.9% of marketers from the 0.01% — good results from exceptional results.
If you watch this, don't skip to the end to discover what the 'one thing' is. The context unpacked in the first 40 minutes is essential before revealing the one thing. Trust me, I'm a doctor.
(I'm not a doctor.)
That's it for today, short and sweet.
Here in Gibraltar, it's a holiday celebrating the Queen's Platinum Jubilee (70 years on the throne), so I'll be heading out to enjoy that a little later.
Enjoy your weekend!
—André (and Shawn)
P.S.
If you enjoy geeking out using PKM tools, this article, which paints a glimpse into the future, will excite you. Promise.
Think "programmable notes" — agent-based note-taking systems that can prompt and facilitate custom workflows and better sense-making.
It's a fascinating read.