"If you want to build a ship, don't drum up people to collect wood and don't assign them tasks and work, but rather teach them to long for the endless immensity of the sea." — Antoine de Saint-Exupéry
We love this quote from the author of The Little Prince.
It's a dynamite stick, small, just two sentences, but packed with wisdom for living a meaningful life and running a business that empowers change.
Alrighty…
In this week's newsletter, we thought it would be valuable to revisit a topic we last wrote about in early 2019.
This topic has been top of mind for us since we teamed up a year ago. We needed a more effective way to collaborate. Our previous workflows needed upgrading, and we'll share those with you in this newsletter.
Note: We're going to be sharing a lot of links in this episode. Every resource we share is something we have found valuable. We think you will, too.
As creators, we need a steady stream of inputs to fuel our ideas. However, if you're anything like us, you're exposed to orders of magnitude more information than you can ever possibly hope to consume, let alone "process" somehow, somewhere, so that it builds on previous (or future) ideas, enriching how you see and understand the world.
Every conversation, book, article, podcast episode, YouTube video, or email engagement (like this email) comes with an opportunity cost…
Do you ignore it, read or listen to it now, or "archive" it for later? (There is no later.)
And, once consumed, then what? Do you process the insights you've deemed useful? (Most people don't.)
The implication of processing information is that you have a robust system for dealing with the firehose of fragmented inputs. (Umm, yeah, you guessed it, most people don't.)
The solution is not a tool but a system or workflow for dealing with all the inputs, a framework for thinking about knowledge management.
Only then is a tool useful. The tool should be subordinate to the workflow. (That's the first insight.)
Here's a visual that may be helpful: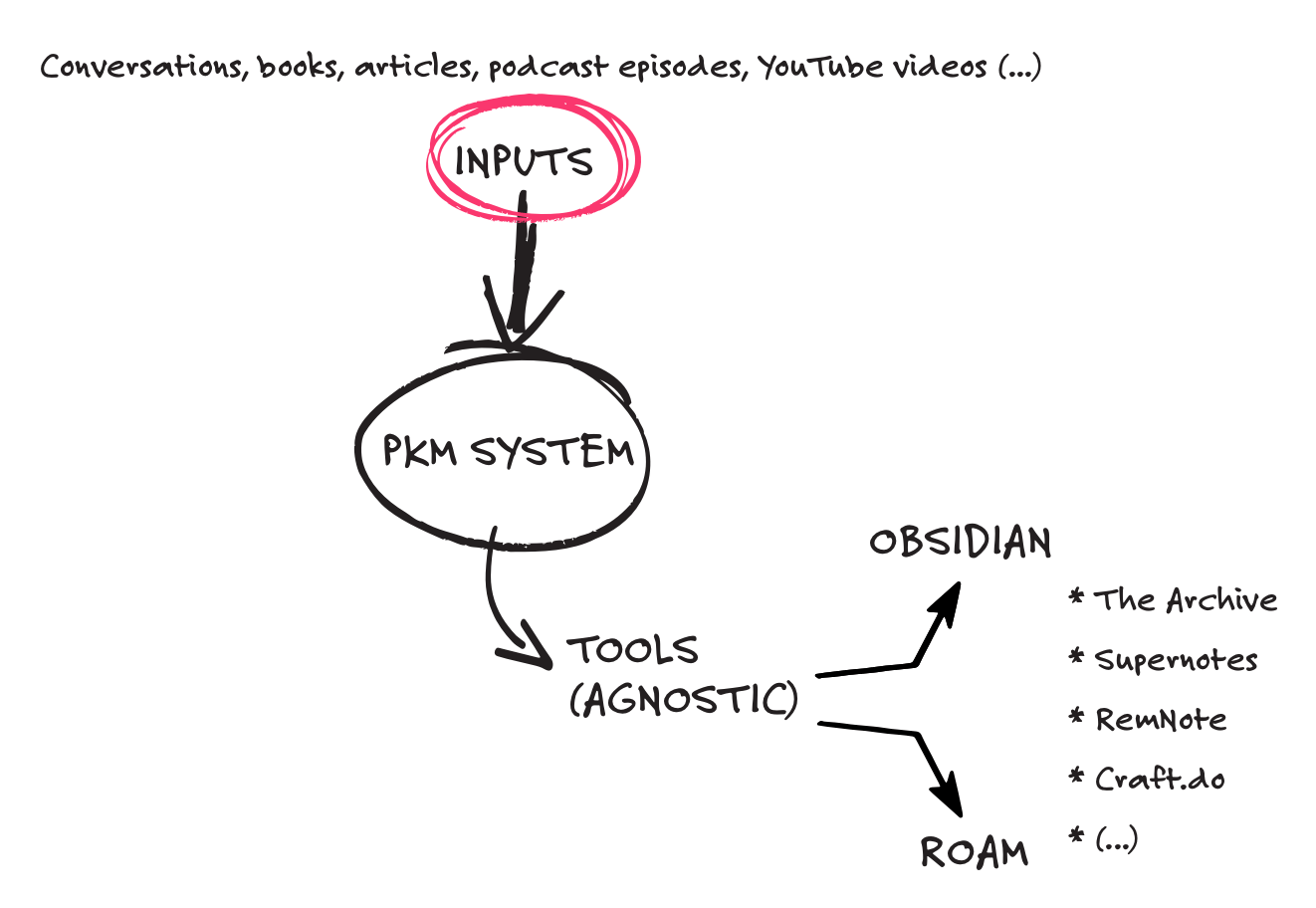 PKM System & Workflow
This is about creating a process you trust that is unique to you and your specific needs as a creator.
Because we value understanding so highly (a higher-order abstraction of knowledge, which is an abstraction of information), we over-invested in going down the 'knowledge management' rabbit hole a few years ago.
We're glad we did. It's been a fun and rewarding journey.
An interesting aside: Russell Ackoff, the grandfather of systems theory, defined learning as something that falls into five hierarchical classes:
data
information
knowledge
understanding
wisdom
Most of the time spent in school is devoted to the transmission of information and ways of obtaining it. Less time is devoted to the transmission of knowledge and ways of obtaining it (analytic thinking). Virtually no time is spent in transmitting understanding or ways of obtaining it (synthetic thinking). Furthermore, the distinction between data, information, and so on up to wisdom are seldom made in the educational process, leaving students unaware of their ignorance. They not only don't know, they don't know what they don't know. (Source.)
Once you internalize Dr. Ackoff's implications, it becomes clear that the majority of people operate at the "information" level…
Information is what they "capture" in Evernote, Instapaper or Pocket, and even in proper PKM tools like Obsidian and Roam.
But information itself is useless (an abundant low-value commodity)…
Knowledge takes more work, more wrestling with the information…
But, it's understanding that we really want; because with understanding, we unshackle ourselves from other people's abstractions, and we can create our own.
Anyhoo, small digression over…
The second insight is there is no one best method to rule-them-all (shocker!).
Instead of focusing on tools or methods, started by understanding the principles of connected thought, and from there, methods and tools emerge.
"Principles are higher than techniques. Principles produce techniques in an instant." — Ido Portal
Our knowledge management thinking is heavily influence by German sociologist/philosopher Niklas Luhmann (1927-1998).
Luhmann developed an analog method of non-linear note-taking using index cards (slips), which he linked thematically and contextually using unique note IDs. He referred to these boxes of index cards as "slip boxes."
Zettelkasten is the translation for "slip box," a framework for thinking and writing that produces emergent thought.
Digital Zettelkasten-inspired tools have hypertext features to make network thought possible and highly accessible.
Zettelkasten emphasizes connections between ideas (notes), not the mere collection of information. This networked "web of thoughts" is where the emergence of new ideas and thinking is revealed.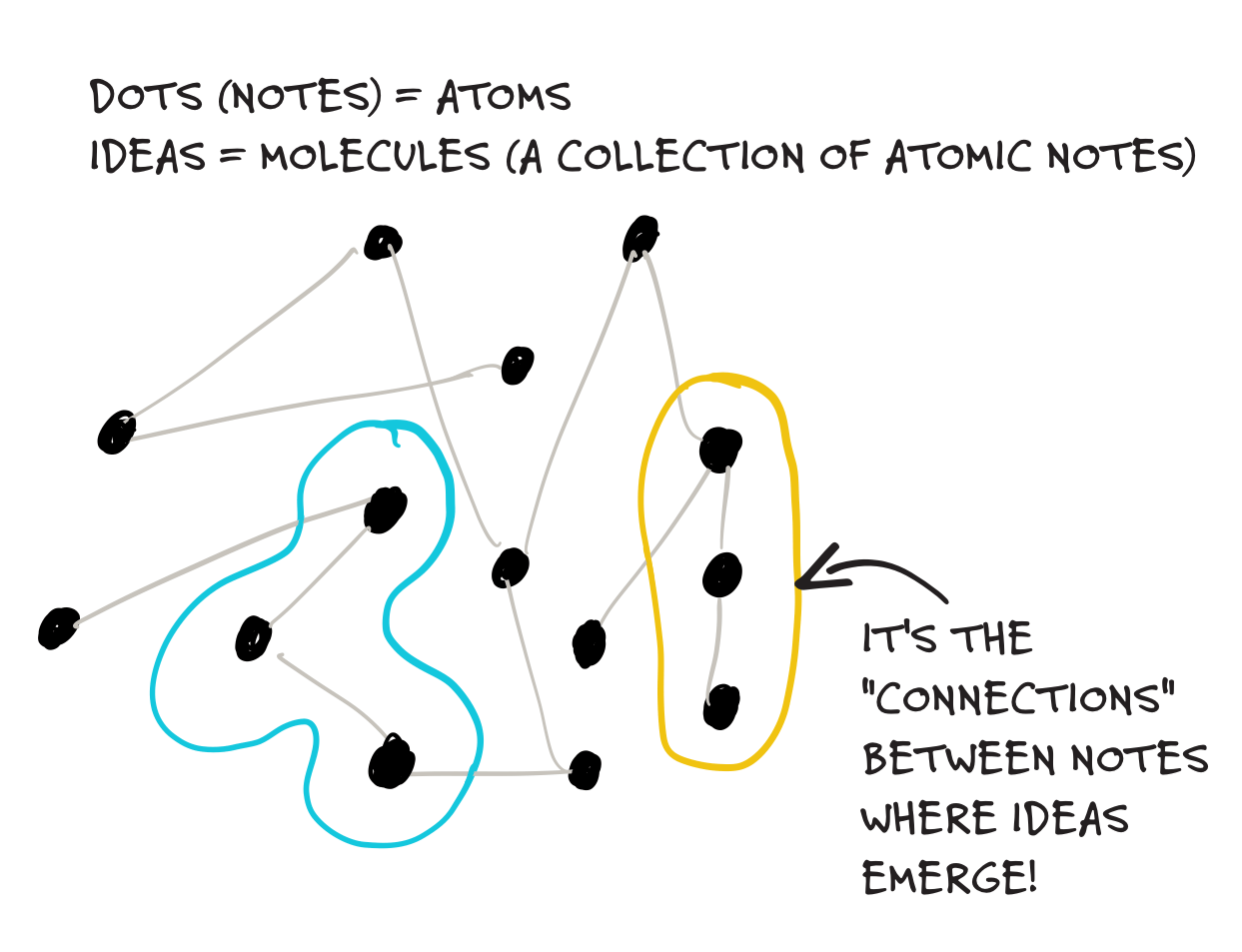 Read (or re-read) the article André wrote in 2019. It will orientate you to what personal knowledge management is, with examples.
Our next recommendation would be to get a copy of How to Take Smart Notes (by Sönke Ahrens). Although it's not required reading, it was invaluable for us to "rewire" how we thought about the principles of non-linear note taking.
Next, watch Tiago Forte's interview Sönke Ahrens. Pay close attention from 36m30s onwards about seeking reinforcing information vs. seeking information that forces us to rethink closely held beliefs.
(If you enjoyed that interview, watch Ahrens' Roam Book Club interview as well.)
Question worth asking: do I want to be right or effective?
(Spoiler: most people want to be right, even when right means doing the wrong things right. It's a trap, a red herring.)
Earlier this year (Feb), we enrolled in a paid workshop by Nick Milo called Linking Your Thinking (LYT). It built on ideas we already knew and provided some new context and texture to how we think about non-linear note-taking.
What we found most valuable from Nick's contribution to Zettelkasten-inspired note-taking is that capturing ideas can happen bottom-up or top-down across five conceptual layers, which he calls radical idea emergence. Nick has unpacked this concept over nineteen posts on Twitter here, along with awesome looking visuals.
This is a good time to talk about what a note conceptually looks like. As Andy Matuschak explains:
"It's easier to form connections across topics and contexts. If your notes are too broad, you might not notice when you encounter some new idea about one of the notions contained within, and links to that note will be muddied. If your notes are too fragmented, you'll also fragment your link network, which may make it harder to see certain connections."
Andy Matuschak popularized the idea of evergreen notes; notes that are written and organized to evolve, contribute, and accumulate over time, across projects.
Personally, our notes tend to be less "atomic" in size, a little more fleshed out; a balance you'll need to find for yourself.
Nick Milo has published an impressive "demo-esque" database of his Linking Your Thinking graph, called LYT Kit (web-based), and you can download a copy here (if you use Obsidian).
Next, we have higher-order notes that act as structures or indexes for linking content together in ways that are meaningful to us. These 'maps of content' connect all our "atomic" notes together across thematic collections that matter to us.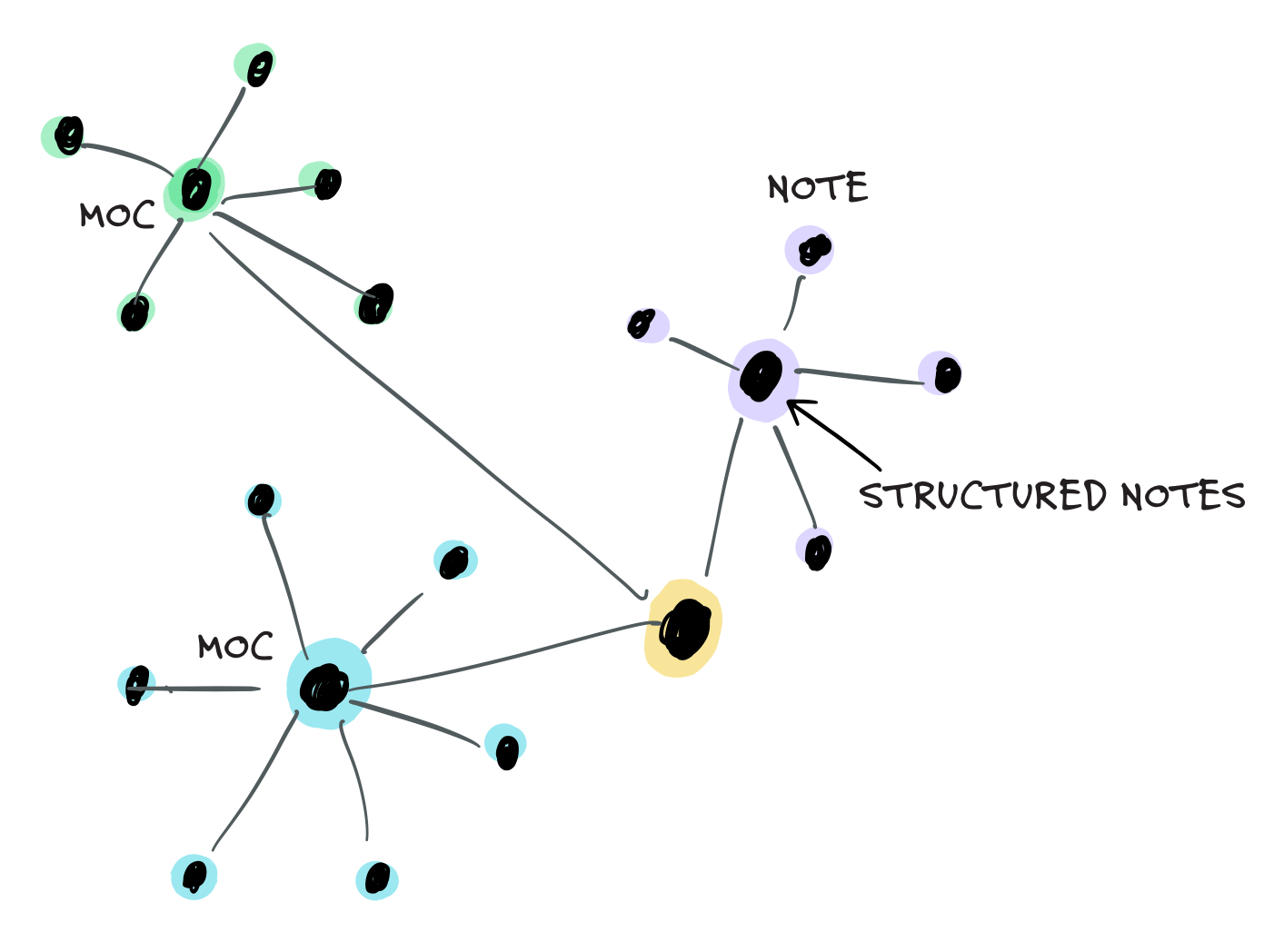 These notes are sometimes called structured notes (SN), or indexes, or maps of content (MOC). Here's a demo MOC around the concept of workflows.
Tools
Finally, we use tools to capture our thoughts and ideas, organize them, then bring them to life with our own understanding (we don't blindly copy/paste them into our PKM system; adding one's own nuance matters).
Notice that a tool comes last in the workflow. The idea of Zettelkasten-inspired note-taking is tool agnostic.
Two years ago the tools we used were Evernote (Shawn) and The Archive (André). Today we use a combination of Obsidian (free) and Roam Research ($15/mo).
We could use just Obsidian, and we may eventually end up with one tool, but, for now, we find that Roam is a little easier to create structured lists / outlines when we collaborate on work.
Obsidian is way better than Roam for long-form notes, in our opinion. (Broadly speaking, Roam is a great tool for outlines and Obsidian is better for writing.)
Nick has a great YouTube playlist where he teaches how to use the Obsidian app for notes (YouTube playlist), which we recommend if you intend to use Obsidian.
For Roam, RJ Nestor (our Roam coach for the past several months) has some great tutorials. Francis Miller has created a free hub for Roam research, with a list of courses here.
(Again, we have no financial affiliation with any of these resources.)
Both Obsidian and Roam automatically create bi-directional links between notes (a superpower that legacy tools like Evernote don't offer out of the box).
That's it.
There's a lot here; the rabbit holes go deep.
Our suggestion is to take your time, pick through this email, the resources we've shared, then dive into 'test driving' both tools. Find what works for you.
There is a wealth of information on both tools on YouTube. We've intentionally not shared every resource we have.
Now it's up to you to pull on the threads that resonate the most.
If you don't have a robust personal knowledge management system, we recommend that you invest the time and energy necessary to create something that works for you. Looking back a year from now, this decision could be a significant turning point.
Enjoy your weekend.
André & Shawn