This is the last of our email lessons.
Tomorrow is Black Friday, so we'll open up enrollment for our masterclass (which will run through Cyber Monday) just before I jump on the flight home.
Yesterday (Wed), we both found writing — you know, getting into a writing flow state — more challenging again.
This wasn't too bad because the previous day (Tue) we had smashed through the majority of our shitty first draft. So the pressure was off (or less).
Most of the work we ended up doing was sanding down the spiky edges of our writing as we transitioned from the first draft to second to third (through to fifth).
Each time we did a tag-team "run-through," we duplicated the doc, then edited the new one. This has left us with each draft version intact, (a full draft history, which is pretty neat).
Outside of the writing, and filing down the spiky edges, we had some breakthroughs this morning.
Breakthroughs almost always happen in the nuances, and we had our fair share this morning.
We kept asking "why" then "but why" again and again until deeply buried insights were revealed to us.
If you missed the previous two email lessons, you can catch them up here:
I'll leave Shawn to take it from here:
DAY 2: Shawn's note (4:40 pm) Wed, Nov 27th, 2019

Another productive day. This one was different — harder in some ways (especially the writing).

Easier in others (we have nearly-final copy so we're 'polishing' now).

André will be on a plane in two days and I'll be driving home. That got me thinking about this week and how it'll change the way we both work.

We both spend 99% of our creative time working alone. This collaboration has been amazing, but the real value to each of us is what we can take back to our day to day professional lives.

What have we learned this week that's most useful for creative marketing professionals, like you and like us, who spend most of our time working alone?

We'll unpack these ideas in detail in the masterclass (and we will have had a couple of weeks to refine and integrate them into our workflow by then).

For now, here are some highlights I hope you find as useful as I have.

No. 1 – Research:

There are at least two levels of research.

The first level is accumulation – taking it all in. This is audience research, product/offer analysis, etc.

The second level is harder to describe; it's the signal among the noise that 'bubbles up' during the initial research.

The first level leads to the second level. It's the price of entry and you have to do the work.

André and I both realized we needed more time with the core group of second-level ideas before we could write well.

I don't like 'tricks' or 'hacks', but I do think we uncovered a way to speed up and improve your writing by knowing how and when to focus on the level-two research.

No. 2 – Structure:

I didn't expect structure to be as important to André as it is to me. (I assumed André wrote fully finished, beautiful prose in his sleep.)

Structure was significant for both of us. We had a visual structure on day one that turned into something completely different on day two (and was further refined on day three).

The key insight was that structure will tell you if your ideas will 'flow' or not. If you can't draw it clearly with boxes and arrows, the writing won't be clear and powerful either.

(If you're thinking "but I can't draw", don't worry. I can't either. I was worried that would be a problem and it wasn't, at all. This is what I originally drew, which was good enough for a major breakthrough.)

We'll talk about how we used structure — analog (Post-it notes, pencil and paper outlines), and digital — iPad sketches, and eventually a Google doc outline.

The insights about structure alone were worth the price of admission for me. I'm really looking forward to talking about these in much greater detail.

No. 3 – Writing and the writing process:

Let's be honest — writing anything worth reading is hard. Writing to create happy, engaged, enthusiastic lifetime customers is really hard.

However, this is where I learned the most, and this is the part of the trip I think will have the biggest impact on me when I'm working alone.

We'll talk about the big questions in the masterclass — when and how do you start, how do you overcome the blank page (especially when you're writing on your own), how do you know you're ready to write (and when you're not), how do you know when you need to stop and recharge (or power through)?

We've spent decades dealing with these issues, and this week was a pressure cooker that created lots of ideas to share that worked for us (and some that didn't).

We also have some fun stuff to share — tools we used, tools we didn't use (and why), inspiration (and how we built it into our workdays), and a lot more.

I have no idea how we're going to fit all of this into a two-hour masterclass. There's so much to share.

André has mentioned expanding this into additional recordings. If you like that idea, reply to this email and let us know. He and I both want to over-deliver to all of you who have been with us on this journey.

Time for my first second beer.
That's all we have for today.
If you want to continue down this journey with us, watch out for the email tomorrow.
We'll summarize our Black Friday offer, then open up for enrollment.
Hope you'll join us.
If not, and that's totally okay, we hope you got a bunch of insights from what we've already shared.
Until tomorrow.
—André (and Shawn)
P.S.
Happy Thanksgiving! (That's Shawn's cake btw!)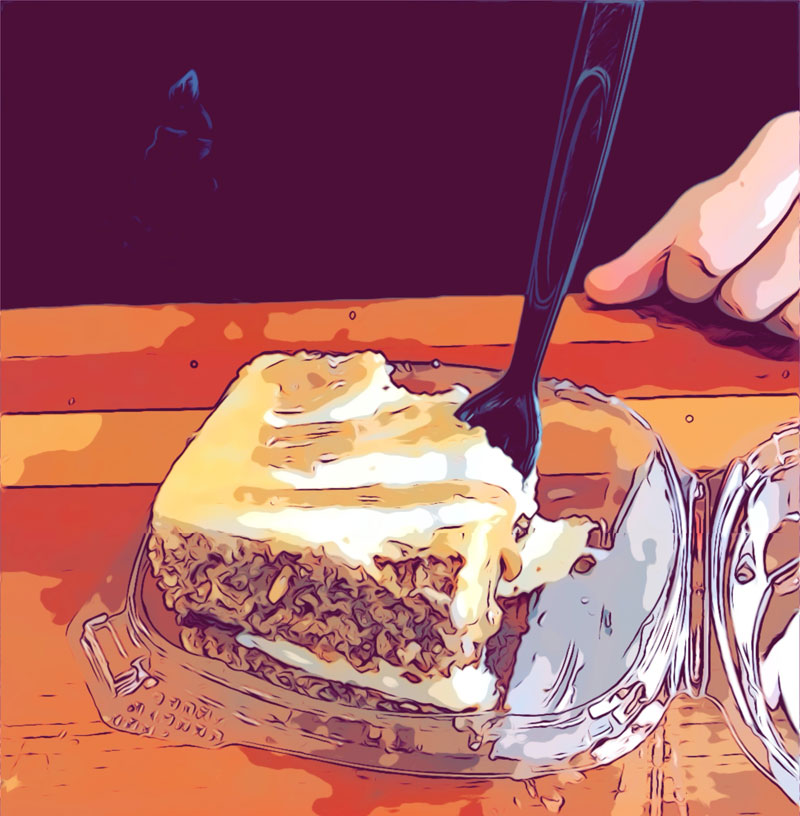 P.P.S.
We've had a few emails about how much we'll be charging for our masterclass.
We'll reveal it tomorrow. Not because we want to hold back, but because the two of us haven't talked about that yet. (We've been having too much fun.)
You know me, I'm all about overdelivering. Shawn is the same; it's how he has run his traffic agency for the past 21 years.