Happy Friday, and Hello 2022…
We're excited to be back — rested, recharged, and ready to kick off the new year.
Today we're going to share a preview of what we have planned for 2022 — including our biggest announcement ever.
If you're in the business of selling expertise — directly to customers or as a digital marketing service provider — this may be the most important email you read this year.
We don't say that lightly. We don't do hype and hoopla.
Let's start off with the announcement. Here's the background from André's PS in our last email.
1 + 1 does not equal 2 with a good collaboration, and we've seen this play out in unpredictable ways over and over.
For the Art of Email, 1 + 1 was more like 11. No question about that.
Then on November 3rd, it happened again, like a lightning bolt from nowhere.
And this 'lightning bolt' moment will forever change TLB and how you interact with us.
We had been riffing for about 30 minutes on one of our twice-weekly standup calls, and then…
BOOM!
… at precisely 31 mins, I unpacked the chronological moment "something" happened. (I have to be vague here on purpose. We'll reveal the details in January.)
… then, at 35m44s, in response, Shawn riffed for 7m17s, when his thinking coalesced into, "but, the other thing you said is really really really interesting … and this is very much a TOL exercise … so let it percolate … complexity scaled in a non-linear way … we don't actually sell…"
And at 44m01s, it fell out of Shawn's mouth, an idea rough and spiky, but at that moment, we both knew it was something special, emergent, the birthing of a little bit of magic that didn't exist before.
That "little bit of magic" is an entirely new approach to the way we share our decades of experience and expertise.
Instead of teaching the three non-negotiable ingredients of modern marketing individually (awareness, engagement, and conversion), we are combining all three into one course.
The Modern Marketing System (MMS) — or 'The System' in our internal shorthand — combines The Art of Email, Sphere of Influence, and the Traffic Engine systemically to create results infinitely better than any part creates on its own.
All three courses sit on top of the momentum-generating 'flywheel' framework developed in The Durable Business.
In addition to the individual course content, we're:
Creating a community for students to interact with each other (iron sharpens iron!).
Connecting the dots across all of our courses with new, MMS-specific content.
Updating individual course content.
Adding new content (over time) to address the most difficult challenges and best opportunities our students face.
We know there will be many questions about what this means for existing customers. We'll answer a few in this email, and anything we miss in upcoming emails.
Here are the basics.
Our individual courses are no longer available for sale (and will never be for sale individually).
In mid-February and beyond, the Modern Marketing System will be available for $1,495.
However, we are incredibly excited about The System and we want to upgrade as many of our students as possible to build that community.
To do that, we're going to offer The System at a significant discount for one week beginning Friday, February 4.
Here's how it'll work…
If you own AoE, SOI, TTE, and TDB you'll be upgraded to The System for free.
If you own any combination of three of those courses, you'll be able to upgrade for $95.
(Originally we planned to make this a free upgrade as well, but we want you to have just enough skin in the game that you'll take it seriously.)
If you own any combination of two of those courses, you'll be able to upgrade for $205.
If you own any one of those courses, you'll be able to upgrade for $700.
And, if you're reading this email but you don't own any of those four courses, you'll qualify for the lowest price we'll ever sell The System — $1,195 (for the duration of the promotion only).
We're also including three-part payment plans for the $700 and $1,195 options.
If you choose not to upgrade, you'll retain access to everything you already own, including any updates made to that content in the future.
You will get full credit — $495/course — if you ever decide to upgrade.
There's a LOT to discuss about The System. We're so excited about it we can barely stand it!
To do that effectively — and provide as much value to everyone as possible — we're going to publish a four-part Modern Marketing series beginning January 31.
There's no need to raise your hand — you'll receive that series automatically (and you will have an option to mute those emails if you're not interested).
If you own any of our courses, you'll see upgrade information automatically. If you don't own any of our courses, you will need to raise your hand (we'll let you know when).
OK, let's move on…
We had a plan for something special this time last year and, as Mike Tyson famously said, "everyone has a plan until he gets punched in the face."
Our metaphorical punch in the face was nine months devoted to creating the Art of Email when we originally estimated "2-3 months, tops…"
Whoops.
This year, however, with as much confidence as we can muster, we will be releasing TLB Lab.
Here's how we described Lab in our (gasp) January 29, 2021 newsletter:
Eventually, after many iterations, we realized that this is the question we're excited (and inspired) to answer:
How can we create a "window" into the way we work, day to day, week to week, that can help others dramatically improve and grow their own businesses?
From that question, TLB Lab was born.
We chose the name because a lab is where collaborators go to work.
It's where insights happen, and discoveries are made.
TLB Lab is where we roll up our sleeves day after day to make things happen in the messy middle no one ever sees (but everyone experiences on their own).
Lab is where we make the leap from knowing how to being able.
Equally important, TLB Lab will be where our audience can see the work that happens before finished courses and campaigns are revealed or made live.
It'll be a behind-the-scenes view of what it takes, day after day, to build, sustain, and thrive serving an audience you care about while doing work that matters to you.
Our ideas for Lab have expanded and evolved after running three dynamic workshops last year.
We'll discuss those ideas in detail later, when we're closer to enrollment.
For now, we can share a few of the basics…
First, Lab membership will be open only to Modern Marketing System students. (That's the core knowledge everyone will need to get the maximum benefit.)
Second, there will be different 'flavors' of Lab to best fit the needs of our audience.
And third, there will be a substantial founding members discount (for life) available during the first enrollment.
Come hell or high water, TLB Lab will be available in March 2022.
We know better than to plan too far into the future. Because of that, we're not specifying any other priorities for 2022.
Instead, our theme for 2022 is focus.
The Modern Marketing System and TLB Lab create ideal conditions for us to share our knowledge and expertise with our audience.
The System will represent our finished, polished thinking. That's where you'll find best-in-the-world modern marketing education.
That's a bold claim — and to be perfectly honest, it's scary as hell to make it.
Neither one of us, on our own, could do it…
But something magical happens in our collaboration — we don't necessarily understand it, but we experience it day after day.
And we can't wait to share it with you.
Lab is where you'll see our thinking emerging and evolving, rough at first, unpolished. Lab will be raw and real.
That's where we'll all level up together.
Full disclosure: We don't love plans and know how easy it is for the best intentions to go off the rails.
But, we know that we couldn't be more excited about our ideas for 2022, and we're going to turn those ideas into reality.
We hope you'll join us on this journey into 2022 and beyond. It'll be fun and ridiculously profitable for everyone willing to show up and do the work.
"Where your talents and the needs of the world cross, there lies your purpose." — Aristotle
We can see the fingerprints of his wisdom in our mission statement, which embodies our purpose as livelong learners, and expressed in our work through TLB:
OUR MISSION STATEMENT: We are changemaker's: we serve those who serve others. We help creators, knowledge workers — people with expertise to share — bridge the gap between creating deep, meaningful work they're proud of that impacts the people they seek to serve and earning an independent living.
Said another way, we help creators like you become better modern marketers; we help you be the hero to the people you seek to serve.
To this end, The System will embody our sharpest thinking, and TLB Lab will be the messy middle that precedes every polished output.
Enjoy your weekend!
.
.
(Personal) Below is some of what we were up to during our time off in December.
P.S. — André:
Anita and I spent almost all of December in Bulgaria. It was cold; that in-your-bones sorta coldness that's impossible to shake off. I'm not built for cold. Maybe the Caribbean next year.
While negotiating the ever-changing travel restrictions was a bloody nightmare, it was worth the effort to engineer being with both our super-moms.
I savored every second; every lingering hug, every special moment, every game of cards (we played a lot of Belote, Hearts, and Monopoly Deal!). I'm so aware that being able to do this is a gift with an expiry date.
But with the yin came the yang…
One of the traits of an introvert is needing (!) alone time to decompress and reflect, and for three weeks, I experienced none of that, which was incredibly difficult.
I found myself using reading/audio time as an opportunity to wall myself off from the world and "recharge" from the constant attention of socializing with family.
I purchased three books for those moments of reclusiveness.
I've wanted to deep-dive into philosophy for some years, but the idea has been terrifying.
End of 2021, I decided to build out an area in my PKM (I use Logseq) for philosophy to attempt to unravel a starting point from the noise, along with people worth following.
I follow Chris Via, a fantastic book-tuber, who did an episode — Why Read Philosophy? Where to Start? Where to Go? — which presented a list of books, along with a recommended reading order.
This was when it dawned on me like an ice cold slap across the face that this this would be a lifetime affair.
Philosophy is a way to understand the world better, and in doing so, it's the journey — not some nebulous "endpoint" — that I'm drawn to, which reminded me of something Bryan Cranston (the Breaking Bad guy) discovered.
(Excerpt from Bryan Cranston's wonderful autobiography, A Life in Parts, pg. 175.)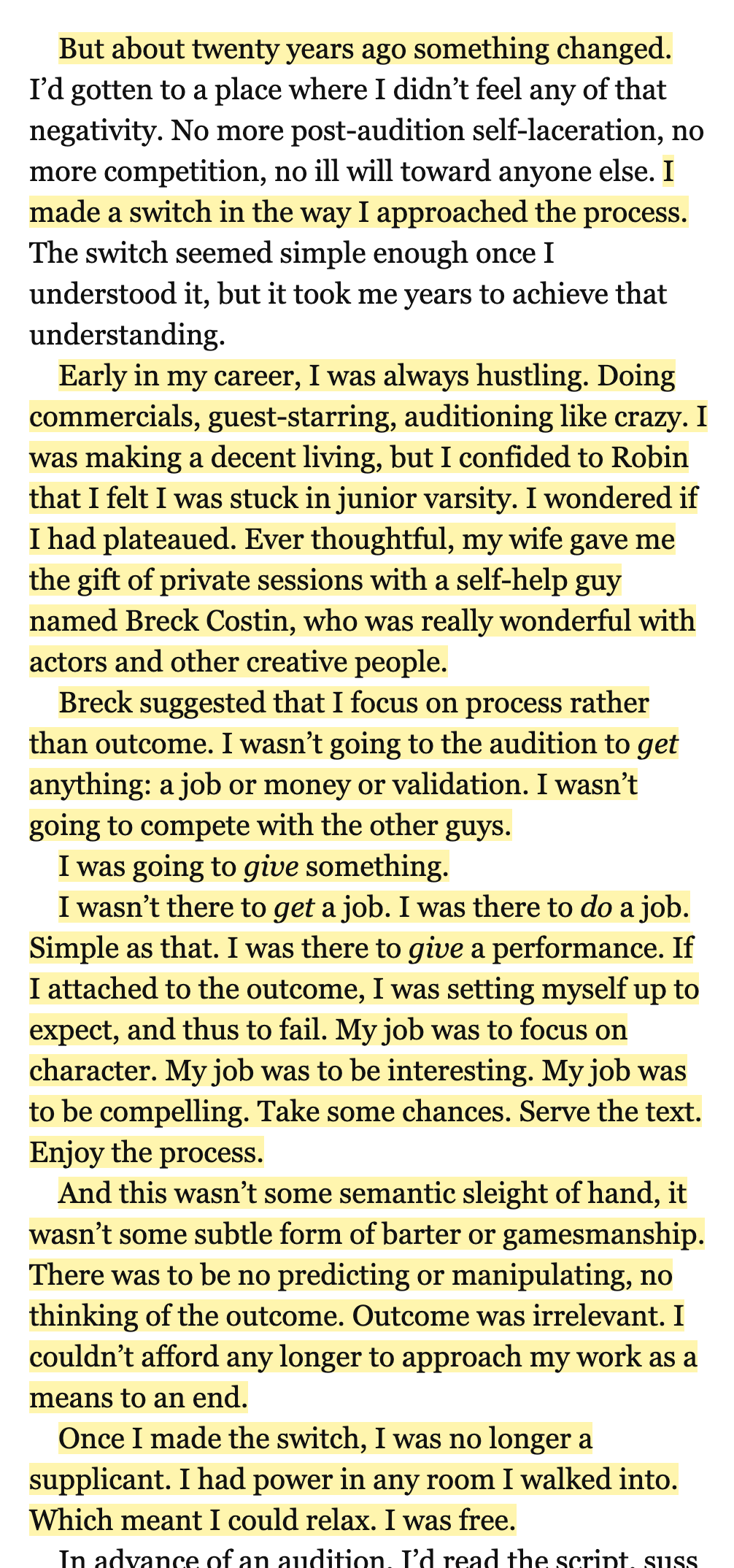 To this end, I picked up three books as my overview "gateway" into Western philosophy before deep-diving into the specific works of Plato (Republic), Aristotle (Nicomachean Ethics), and the rest of the motley crew of thinkers.
A Little History of Philosophy (Nigel Warburton)
"Warburton packs a heck of a lot in to what is something of a Goldilocks volume: neither too much nor too little, the exegesis neither too thin or too thick and lumpy, his Little History can be consumed as a nourishing treat in its own rights or provide the perfect fuel to kick-start anyone's journey into philosophy." — Julian Baggini
I also picked up Julian Baggini's book, How the World Thinks: A Global History of Philosophy
"In this groundbreaking global overview of philosophy, Julian Baggini travels the world to provide a wide-ranging map of human thought."
And finally, Plato at the Googleplex: Why Philosophy Won't Go Away (Rebecca Goldstein).
"At the origin of Western philosophy stands Plato, who got about as much wrong as one would expect from a thinker who lived 2,400 years ago. But Plato's role in shaping philosophy was pivotal. On her way to considering the place of philosophy in our ongoing intellectual life, Goldstein tells a new story of its origin, re-envisioning the extraordinary culture that produced the man who produced philosophy."
I've not finished the three books yet. I'm tag-team reading all three at the same time.
I'll report on the journey in our end of 2022 review email.
P.P.S. Shawn
I wasn't sure what to expect taking a full month off. I hadn't done that since my second summer in graduate school in 1994!
After two weeks running a chainsaw, driving a tractor, and splitting firewood, I settled in to some reading, listening, and thinking.
No Caribbean vacations for me. I'm the seventh generation of my family to live among the mountains. The bitter cold winters remind me to appreciate the warmth (and long days) of summer.
A Gentleman in Moscow was incredible. (Thanks so much for the recommendation Sue.) After finishing the book, I realized I was pronouncing Moscow incorrectly. Oops.
I started reading All The Light We Cannot See which is wonderful as well.
Robert Greene on the Power of Daily Practice was interesting. I particularly appreciated the nuances in Greene's description of alive time vs. dead time toward the end of the conversation.
Another fascinating podcast wasAnnie Duke on Poker, Probabilities, and How We Make Decisions, a conversation with Tyler Cowen.
I reread Peter Bevelin on Seeking Wisdom, Mental Models, Learning, and a Lot More, which led me to revisit Charlie Munger's Lesson on Elementary Worldly Wisdom and Munger's Psychology of Human Misjudgment.
I suspect there's 7-10 years of ideas to explore from those three articles…probably more.
Finally, I committed to studying philosophy much more rigorously. In the past, philosophy — specifically the idea of how to live a good life — has been a topic of interest.
My intention in 2022 is to make that much more central to my life.
What could be more important?
To that end, I purchased physical editions of The Cambridge Companion to Plato, Aristotle: His Life and School, and Confucius's The Analects (in addition to my well-worn copies of the I, Ching and Tao Te Ching).
Curiously, all of the books I read, and all of the books I purchased, were physical copies. I love the efficiency of exporting Kindle highlights to Evernote, but I suspect that efficiency has a cost.
Deliberate inefficiency in service to deeper learning is my plan for 2022…wish me luck!