This email is part of our email series for our Black Friday 2020 early adopter enrollment of
The Durable Business
(TDB) course. Enrollment will be open between Friday Nov 27 through midnight Monday Nov 30 PST.
Happy Wednesday.
If you haven't read Monday and Tuesday's emails, please do that first.
Today we're moving on to the third part of The Durable Business framework — build.
During the discover phase, we defined a minimum viable audience (MVA) that we seek to serve and identified 1-3 significant problems (or meaningful desires) we can charge money to help that audience solve (or fulfill).
We then validated potential solutions — eventually expressed as mafia offers — paying attention to the bright flashing indicators that our solutions match our MVA's needs.
The next step is creating the minimum viable infrastructure required to act on insights gained from discovery and validation.
Read that sentence again. (The key word is minimum.)
Before we get started with the build phase, we need to understand that context really matters…
If we're building for the first time, after completing our initial discovery and validation, we don't need a website, LinkedIn profile, Facebook group, YouTube channel, Instagram account, podcast, etc.
(In fact, we may never need all of that. Case in point: we still don't use social media as a marketing channel, and we've been in business since before any of the social media platforms existed.)
We only need to create a few critical elements for getting an initial result and meaningful signal.
Those few elements could be a Google or Facebook ad, a 1,000-word landing page, a Calendly link to schedule strategy consultations, and a PayPal account to accept payments.
If that's all it takes to get a meaningful result, then that's all we need to build this time around the TDB flywheel framework.
Remember (we can't emphasize this enough): The Durable Business is a circular process that picks up speed over time. (It works best when it's in motion, moving quickly from one step to the next.)
At this early stage, speed is your best friend.
The first time through the framework will seem slow and tedious, like wading through a bog. Friction will be pulling and tugging at you, seeking to stop what little forward momentum you have.
But the next time through will be a little easier and a little faster.
Each time you 'turn the flywheel' there's a little less friction.
To better illustrate the point, consider these two examples.
Example #1 — after discovery and validation, you decide to design a logo, build a website, create a multi-page pre-sell site, write a 5-7 part email Soap Opera Sequence, setup sophisticated commerce infrastructure, and populate a Facebook page, YouTube channel, and Instagram account.
Or…
Example #2 — after discovery and validation, you create one Facebook ad that points to one landing page, and you interact with prospects one-on-one in the comments and via Zoom (using a free scheduling app like Calendly). When prospects buy, you collect money via PayPal.
Which of these two examples will produce results faster for you?
It's obvious, right?
The setup for example #1 will take months, while building the assets for example #2 will take days (perhaps hours if you're fast).
Would you rather turn your business's flywheel 2-3 times per year or 2-3 times per month? Which do you think is more likely to produce the level of momentum that can overcome friction?
We're not suggesting that all you need to generate $100,000 in revenue is an ad, landing page, scheduling app, and PayPal account…
But, it's possible that's all you need to generate your first $1,000 or $10,000+ in revenue (or first 10-100 customers) as you iterate yourself around and around and around the flywheel framework.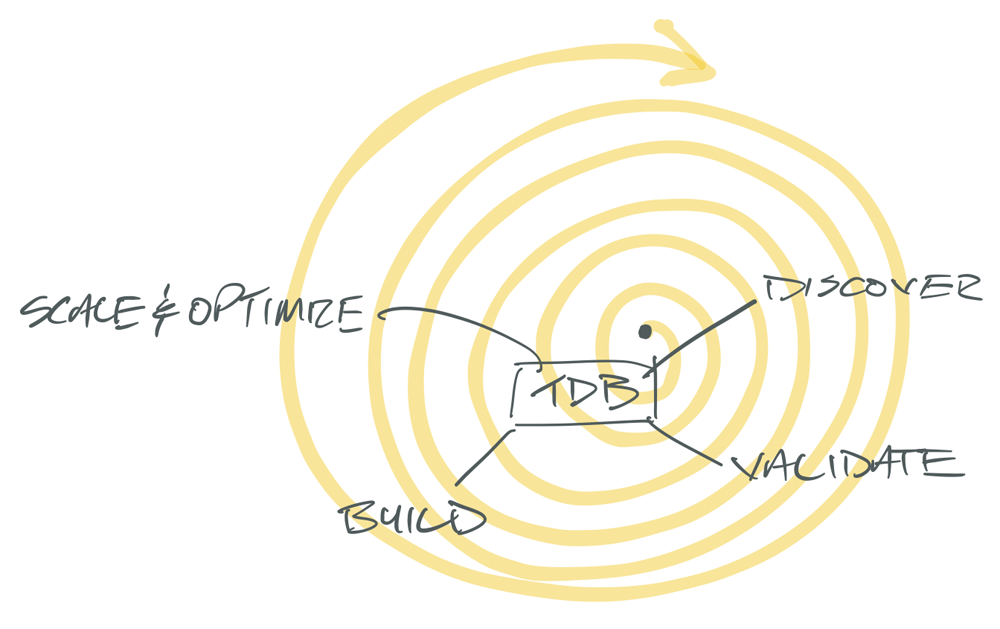 This is a good place to pause for a moment and let you in on a little secret.
Ready? … pay close attention now … lean in …
The biggest barrier to creating a business asset is fear, and one of the most effective ways to "combat fear" is to hide from it by procrastinating (working on and building stuff that doesn't yet matter).
Hands up if you've done this in the past?
We all have.
It's scary to put ourselves out in the world, and projects that require months to build "a perfect system" are amazingly effective for keeping fear at bay.
Unfortunately, that same strategy is an effective roadblock between you and your business-owning dreams.
Reframe: there are people in the world right now that are being underserved, and you're their reluctant hero waiting in the wings. This is your time to put fear aside and show up. Anything less means you're doing them (and yourself) a disservice. Each day you procrastinate is a day you can't serve them and can't realize your dreams.
The best way to fight fear is to narrow our focus to the few things that matter right now and trust the process to show us when it's time to expand beyond those initial few things.
That's how real progress is made — one turn of the flywheel at a time, step by step, for a lifetime.
After your first few times through the process, your priorities for building will change and expand as you discover a working business model that expresses how you want to show up in the word.
You might find new audiences…
Test new front end offers…
Develop back end offers…
Experiment with new marketing channels…
The sky is the limit.
And, if you're already making money, The Durable Business framework will meet you where you are.
Discovery and validation will adapt to your specific situation, then you'll build whatever assets you need to take your business another step forward and around the flywheel.
The live example business we build will likely look different, smell different, and quack differently to what you end up building as we all go on this journey together.
Tomorrow we're going to discuss the final step in The Durable Business — Scale & Optimize.
That's an easy part of the process to get wrong, and we want to show you where the quicksand is so you can avoid it (and keep the flywheel turning, gaining momentum, and overcoming the forces acting against you like friction and resistance and fear).
We'll also explain how all four parts work together as a system to produce results that no part of the system produces on its own. (This emergent behavior is where the real magic happens — but more about that tomorrow.)
See you then.
Comments are open and there are a bunch already. If you have a question, or were hit by an head-slapping insight from this email, let us know.
André and Shawn
P.S.
Enrollment will open for The Durable Business on Black Friday, Nov 27, 2020 and will close at midnight PST Monday, Nov 30.
The course curriculum, Q&A, and other details will be available later this week on the TDB course page.