The previous two emails (here and here) unpacked the powerful idea of worldbuilding.
The subtext is that, by thinking about your marketing as building a world that people you seek to serve will be attracted to, and want to be a part of, you can't help but approach it through a long-term lens.
Just as New York attracts people who love the energy and buzz and diverse population, it also repels people who are not "city folk."
If you build a world, certain types of people will be attracted to it. They'll want to be part of it, to set up shop, to lay roots, to see themselves as citizens, as part of the tribe.
Yet most marketers don't build worlds, or cities, or towns, or anything…
Their worlds are narrow sales funnels that are more akin to a "mousetrap" than a place people would want to — choose to — inhabit on their own.
The beauty of worldbuilding is that the world builder gets to establish the characteristics that will attract a certain type of inhabitant, who believe in the same values, ethos, and ideas.
A "funnel hacker" is going to be attracted to the world that Russell Brunson has built. Someone who doesn't buy into the idea will seek another world to inhabit.
As a marketer, a creative professional — a world builder — you get to choose the world you build and the people you attract.
We assert that relationship building should be the asset we trade in, not coercion…
When the focus is on the relationship, weird behaviors can be seen in your world that are rarely seen in other worlds. Like this…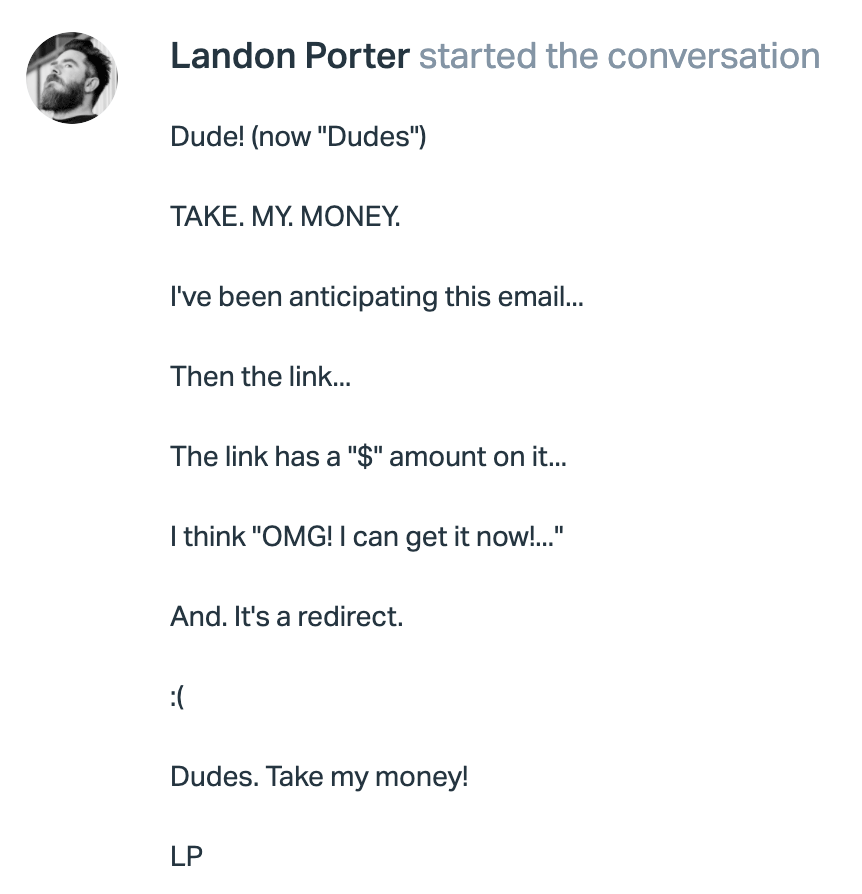 Landon is not a customer yet.
He entered our world a little while back. He's been lurking ever since, wondering around, reading emails, sending emails, biding his time until he was ready.
He's ready.
The email above was sent Wednesday.
He's good to go, it seems.
We open enrollment on Monday through the following Monday.
Pretty sure Landon will enroll.
Become a newly minted customer of ours who we look forward to serving.
Maybe he'll love what he experiences and stick around for years, like the lady from Wednesday's email who is going strong after being in our "sphere of influence" for the past decade.
When your focus shifts to developing relationships with the people who have chosen to visit your little world, you can create customers BEFORE a transaction has ever taken place.
It's a weird concept, we know.
We're told to assemble tripwires (low barrier to entry offers) because that's the fastest way with the least friction to generate a customer.
And then, once you have customers, we're told they are orders of magnitude more likely to buy more, to ascend the product ladder step by step, right to the high-ticket coaching summit / mastermind group.
There's some truth in this, no doubt. But a $10 tripwire is not the "magic ticket" to unicorn's pissing rainbows.
Customers are made BEFORE they buy. Not at the transaction door, with a little "coercion nudge" to help them along.
There's a vast difference between coaxing a mediocre customer to buy a low-cost offer and allowing a superfan to emerge.
Customers are made long before a sale, when we take the time to form meaningful relationships with them, when we reach out (through our messaging and communication) and help them solve problems.
What if marketing was where we began our journey towards understanding what people need and want?
To welcome them with open arms into our world.
Better prospects matter (read our manifesto for a deep dive).
We move them towards us by focusing on the relationship ahead of the "fast" sale. When we take the time to matter to them, they will respond.
With attention.
With trust.
With their DESIRE to enter the castle gates and set up residence for the long term.
Relationships matter. They're worth investing in, not just early on, but from the start.
See you Monday.
By the way: if you have a question, or just want to share an insight you had after reading this, head to the comments section here.
— Shawn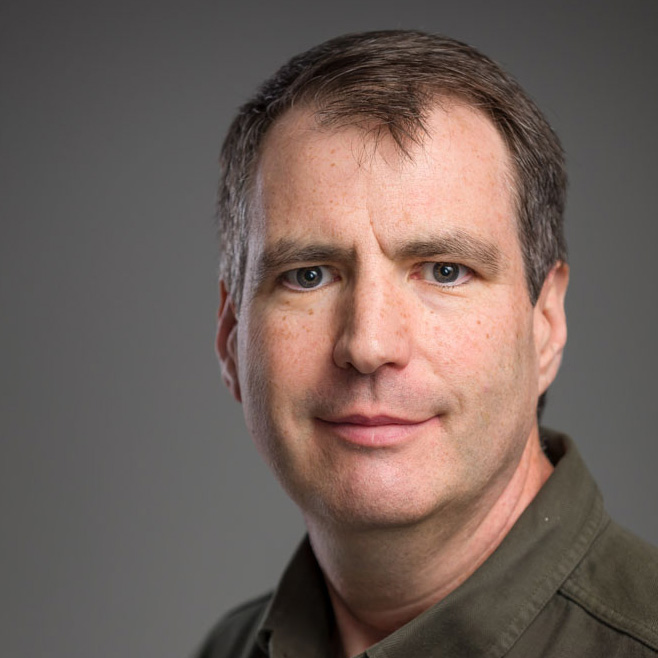 P.S.
Shawn here. Last week I mentioned an MPPS I'm working on inspired by an iconic scene in the movie Heat. On Sunday I'll share the backstory, and take you on an 'over my shoulder' journey of Sphere of Influence and AutoResponder Madness in action.