As I write this email it's 5:11 pm on Tuesday evening.
Shawn and I have decided to share our insights from the previous day (in this case, Monday).
We'll follow this theme each day. Tomorrow you'll get the insights that were revealed to us today (which had us both vibrating with excitement this morning for the potential of what we would later write).
We still need to externalize our ideas and insights from today and digitize Shawn's analog notes.
So far both days have played out like this:
Shawn on the chair at the end of the room with the hotel notepad, externalizing our ideas.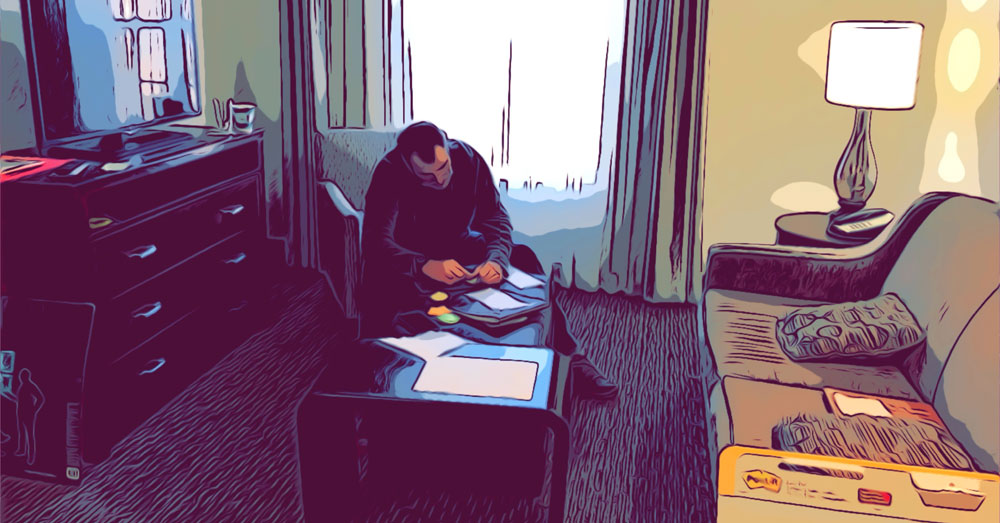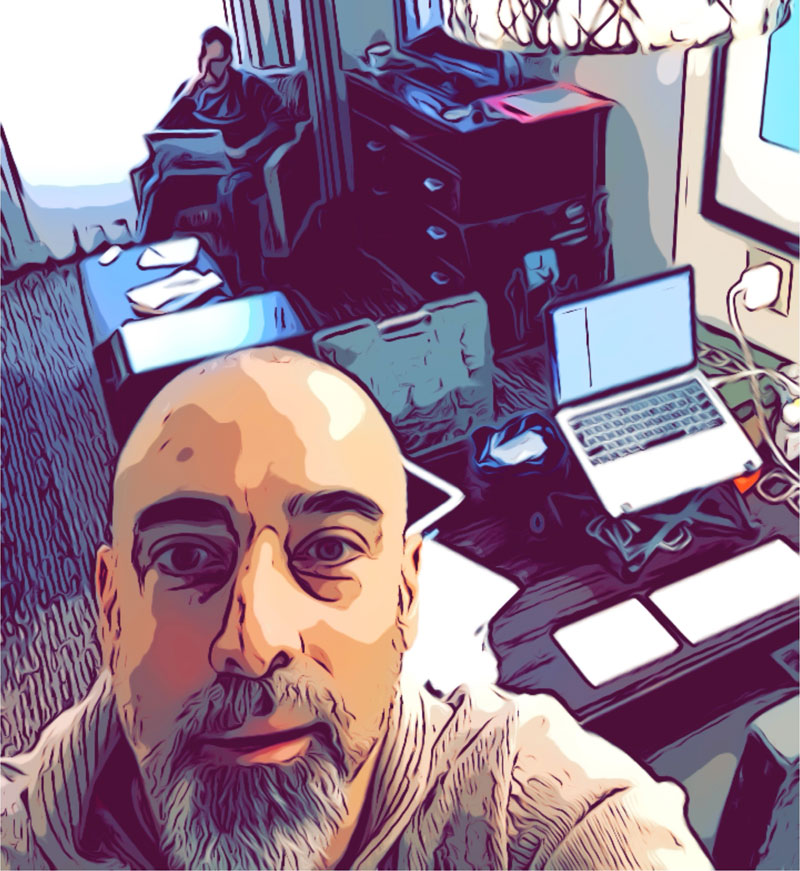 I'm a pacer, so I pace at the entrance to the lounge area in the suite, verbalizing ideas and thoughts, remixing them with what comes back from Shawn.
Ideas being volleyed over the coffee table back and forth, back and forth, like a game of tennis. All the while Shawn captures the best parts.
When I see him scribbling, I stop talking but keep pacing, back and forth.
It's weird how movement allows me to focus my thoughts. Then, when Shawn's head pops up, the tennis volleying kicks off again.
We've been doing this for hours. All of Monday (insights below), and the first half of today (we only started writing after lunch – idea generation all morning).
Okay, here are some of our insights from Monday (written by Shawn):
//=== DAY 1: Shawn's note from Monday, Nov 25th, 2019 ===//

Lots of insights today (10 total, according to Evernote).

Full disclosure: I wasn't sure what to expect today. There's always the fear that the Muse won't show up, the ideas won't flow.

I like André a lot, but neither of us wants to be stuck in a hotel suite for five days staring at each other with nothing to show for it.

Fortunately, the ideas started flowing immediately and it was hard to keep up.

For perspective, I'm writing this at 4:29 p.m. — 30 minutes 'til happy hour — and I don't want to stop working.

Here are three takeaways from today's session:

First, physically storyboarding ideas helped both of us. André is more digital than I am. He's much better at thinking on a screen. I do my best thinking with analog tools; paper, pen, Post-its, index cards.

Despite those style differences, it helped both of us to capture story and scene ideas on 3″ x 5″ Post-its and arrange those on a door.

(This is the back of the door entrance to the suite.)

The structure of the pre-sell site started to reveal itself.

(For more on structure in writing, pick up a copy of John McPhee's book Draft No 4.)

Second, we realized that our overall goal is reverse-engineering an "ah-ha!" experience for an audience.

We want readers to have an emotional reaction to our writing; excitement, anticipation, a desire to share, a desire for MORE.

André said it best, "we want someone to feel like they're lucky for having found what we've written."

Here are two questions we asked:

What emotions do we want a prospect to have right before they see the call to action?

What could we show her that would be worthy of that emotional response?

(There's a lot more we unpacked around this idea which we'll discuss in detail during the masterclass.)

Third is an idea I first heard from the author Michael Pollan. In an interview with Tim Ferriss, Pollan explained that he doesn't write books from the expert's perspective. Instead, he goes on a journey and then shares the most interesting parts of that journey with his audience.

That's really what André and I have been doing. We've been learning about our client's audience and the value the client can provide to that audience.

The goal for this week is drawing attention to those few insights that are most valuable to that audience — the signal among the noise — in a way that's intellectually interesting and emotionally compelling.

More to follow: maybe we'll have just one beer at happy hour before we get back to work.
Okay, I'm back.
There is a lot of nuance in what we've expressed in this email. Read it a few times to fully appreciate what's here.
Of course, we're going to have a field day when we record the masterclass. Today (Tue) has been very revealing (we'll cover that in tomorrow's email).
For one, we tried to write for an hour yesterday (Mon), but we both quickly realized we needed more. Or rather, we didn't have enough clarity of what the structure of the writing needed to look like.
This created dissonance, which was an insight to both of us.
More tomorrow.
I hope you see some of the value in this email.
—André (and Shawn)
P.S.
Yesterday's dissonance with what we had created (expresses in the storyboard image above) led to a morning full of ideas and insights. Hours later we have a draft outline of the pre-sell site that looks nothing like what we created yesterday!
Does that mean we wasted our time (and a LOT of hard work) yesterday? Not at all. Yesterday's work setup huge breakthroughs for today.
More about that tomorrow. And I imagine we'll spend a lot of time talking about this part of the process in the masterclass because it was so valuable.