NOTE: This is an archive of our Emergent Marketing Newsletter from Friday, November 6 (2020). It's been lightly edited.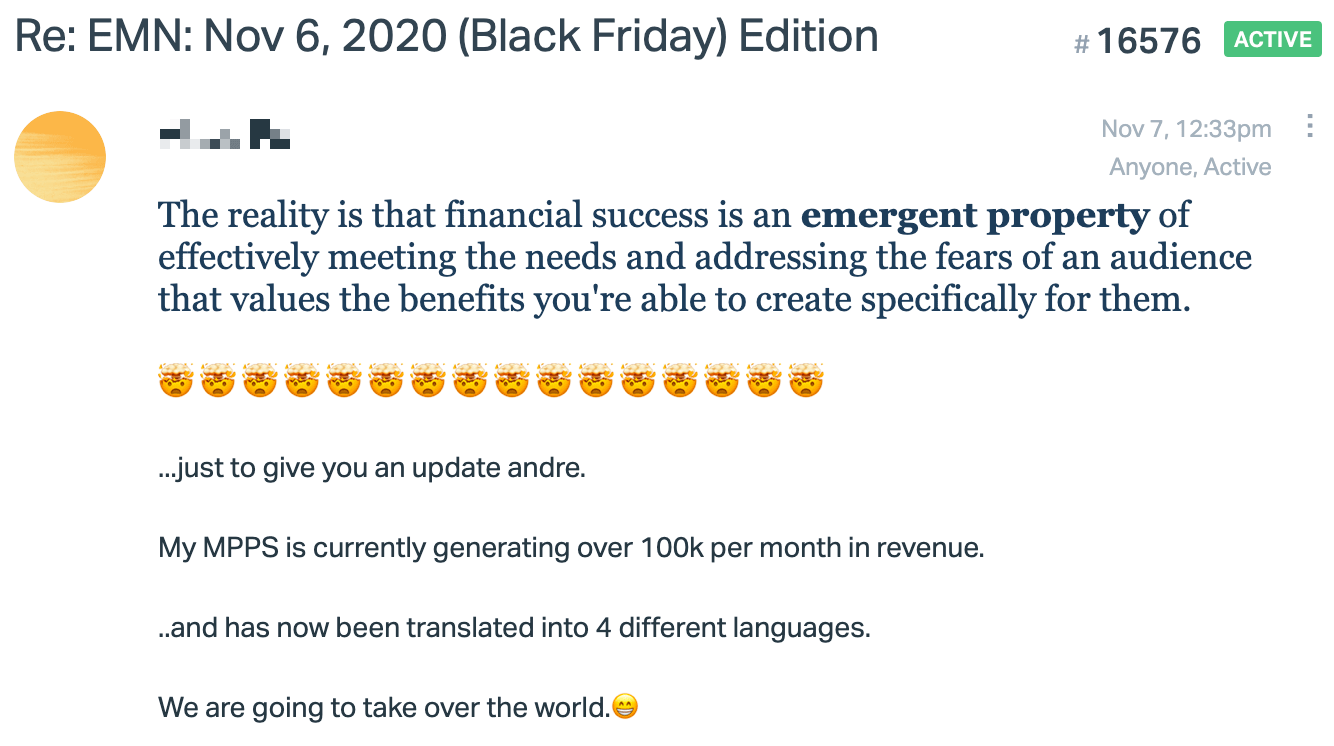 Happy Friday.
We have a lot to cover in today's newsletter…
First up — earlier this week we recorded a 90-minute interview with a dear friend of ours, Jonathan Boyd, who has grown his business from 230 customers in January 2020 to 25,000+ customers this month.
That wasn't a typo.
Jonathan grew his business over 100x in eleven months. During a global pandemic. We think you'll love the interview (more about that below).
Next, we're excited to announce a project we've been working on and thinking about for a while.
Two years ago (Black Friday 2018), André created Lean Business for Creators (LBC). The premise was simple — if he had to start over with only $1,000 in his pocket, what would he do? (If you're interested in the backstory, see our last newsletter.)
Nearly eight hundred students have signed up for LBC the few times it has been available for enrollment.
One of those students was Jonathan Boyd…
When "I" (André) became "we" (André and Shawn) earlier this year, we knew that we wanted to update LBC to "version two"…
We thought the premise would be the same, with the addition of Shawn's perspective from working with clients for more than two decades.
What would we do if we had to start over with $1,000, based on our combined four decades of experience?
But something wasn't quite right.
That premise was exciting, but it was not heart-pounding, right up against the edge of our abilities exciting.
Something was missing…
We felt dissonance, not resonance (a concept you're going to hear about in detail in the interview with Jonathan).
More importantly, we didn't want to limit our thinking only to what we would do…
We wanted to create something foundational, based on timeless principles, that anyone could adapt to their specific ideas, strengths, and a business model that uniquely fit them like a hand in glove.
To get a better answer, we asked a better question:
What would we do to build a business from $0 to $100,000 in revenue that we could teach others how to create too?
And not just any business — a durable business that would establish a solid foundation for consistent revenue and growth.
Maybe even 100x growth…
With that question as our North Star, we created our initial high-level framework. The four parts are:
Discover
Validate
Build
Scale
And then magic struck…
We're both visual thinkers and André had captured those four parts of the framework in a mind map.
As we worked on the outline we noticed the framework isn't linear — it's circular — where one step leads invariably to the next.
That's when we realized we had created a flywheel — Jim Collins' term for a system that builds momentum over time. Each time the 'wheel' turns it takes less effort to get ever-increasing results.
Discover, validate, build, scale … discover, validate, build, scale … over and over again getting better (and faster) each time.
(That's how you build a business that grows 10x — or 100x — in record time, but in a way that's durable for the long-term because we're playing an infinite game.)
Here's a screenshot of the original mind map.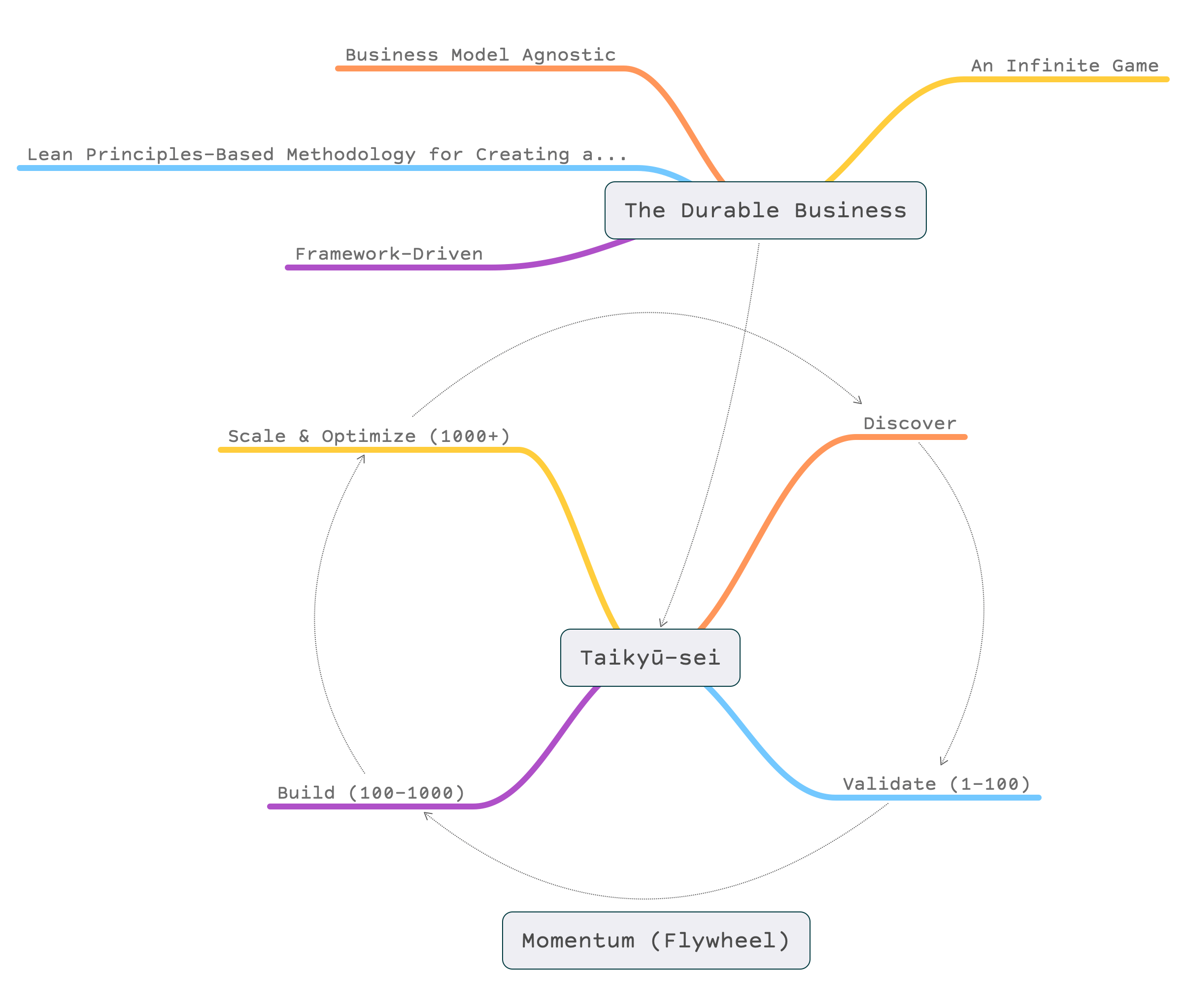 And then magic struck again. One of us (we can't remember who) wondered, aloud:
What if we actually built a business from $0 to $100,000 in revenue, by following our own frameworks, and showed our students exactly what we did, step by step, along the way?
Are we really crazy enough to do that?
Yes, we are…
… and we're going to share details about that next week leading up to the limited time, Black Friday enrollment for "LBC2" (which has a new name that we'll reveal next week if you choose to come on that journey with us).
Before we wrap up today's email, we want to give you some context to get the most value from our interview with Jonathan Boyd.
Jonathan is a philosopher and this conversation goes very deep. It starts off slowly and then Jonathan delivers a mind-blowing masterclass explaining what it takes to build a seven-figure business in record time.
(Their monthly revenue was $372k last month, with their backend generating $150K in MRR.)
There's so much value to be extracted from this conversation. Listen to it over and over again (seriously)…
Soak in the lessons…
Listen for the nuances…
And take action by applying the insights you discovered to your business.
It's no exaggeration to say that our conversation with Jonathan will change lives. We don't say that lightly.
NOTE: We clipped the last 90 seconds of the call to the beginning, which is why it will start at the end. At around 90 seconds in, Shawn will do the intro, and the call will unspool from there. Enjoy!
You can download the audio here (it's 100% free, our gift to you).
Enjoy your weekend.
André and Shawn
P.S. —
From André
:
I was 20 years old in 1993.
It was the transition period of apartheid in South Africa. A year later, the ANC would win 62.65% of the democratic vote, and finding any decent employment would forever change.
Having seen the writing on the wall when I left high-school in '91, I had become borderline obsessed with the idea of figuring out a way to earn a living without the need to be employed by someone else.
I would spend hours searching the classified ads for business opportunities then order them through the mail.
This was pre-Internet so the wait would sometimes take weeks.
Then an envelope would arrive containing a "mystery box" inside that could unlock some secret doorway to wealth creation.
In March 1993, ten days after becoming a newly minted 20 year old, this package arrived (I still have it):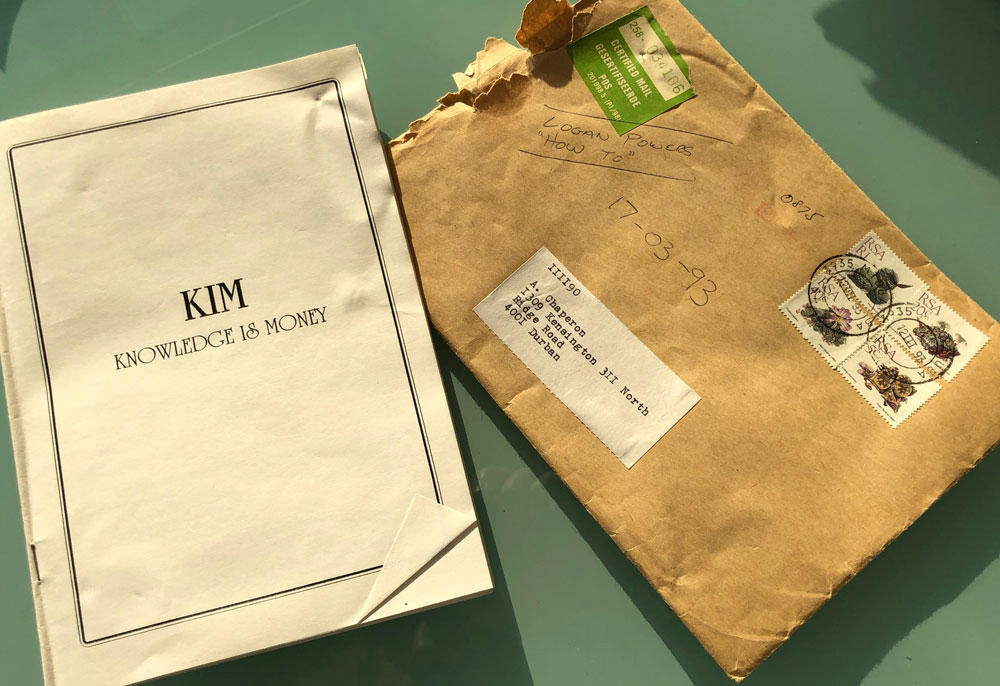 KIM.
Knowledge Is Money.
It was a little 20-page booklet, and right there on page three was this:

Of all the stuff I ordered over the years (which was a lot), it was this simple idea of creating and selling knowledge that stuck with me like a thorn in my side.
The idea struck me as somehow valuable.
But I was too dumb to do anything with the information. It seemed too simple.
But I kept it, like when Bilbo Baggins found the Ring in the caverns beneath the Misty Mountains and kept it. It felt powerful in some way, but to what extent I didn't yet know.
It wasn't until ten years later when everything changed.
It was October 22, 2003.
I was working in London, England (having left South Africa in 1999).
That was the day I got fired and freed from the last job I've ever had.
This sent me on a journey where I would discover what that sentence truly meant: 'I made my fortune publishing and selling "How To" books.'
2003 felt like a whole new world of limitless digital opportunities, a better fit for me. A world where leverage could take on a whole new meaning.
So I pulled my finger out, created a PDF guide that solved a problem (that I initially had), and sold it for $34.77 from a one-page website.
… and just like that I was in business selling knowledge, ten years after discovering "the secret."
As I write this email, it's November 20, 2020 (that's a lot of 20s).
What have I learned in the 17 years between 2003 and 2020? Or the 27 since receiving that little booklet from Logan Powers?
A whole lot.
For one, "knowledge is money" doesn't tell the whole story. It's fundamentally correct. But if that statement was objectively true, everyone would be billionaires.
The problem is information is freely available everywhere.
Knowledge is just an extraction.
If you want to figure something out, you Google it. Between YouTube and articles, you can learn pretty much anything.
For free.
A more accurate statement is: knowledge is the potential for money.
What's missing is leverage, positioning, and the distillation of ideas into valuable and accessible knowledge.
Leverage comes from remixing ideas and concepts in unique ways to create valuable insights for specific pockets of people in ways that are beneficial and valuable to them.
When I figured this out, the money followed. For me, not billions, but I would settle for millions.
In the end, Logan Powers was subjectively correct. I (eventually) figured out how to do the same thing; the medium was only different.

As knowledge workers, the internet has unlocked an opportunity for all of us, no matter our ability. We live in the best time in history.
And now "I" is "we" since Shawn became my co-pilot on this journey earlier this year.
P.P.S — From Shawn:
I got the call on Nov 3, 1998. Earlier that day my father had been diagnosed with stage 4 lung cancer and was told to 'get his affairs in order'.
I was twenty-seven years old. Four years out of graduate school, traveling the world and working in Washington, DC.
In addition to my full-time job, I had been building websites for clients on nights and weekends, learning as I went along. I would sell a project to a client and spend the next weeks/months learning how to create whatever I had promised.
After returning to Vermont to spend time with my father, I knew that I wouldn't be going back to DC. That part of my life was over.
My company — Barn Door Media — was founded at my parents' dining room table in November 1998. In the twenty-two years that followed I've worked with more than 200 clients, completed more than 650 projects, and I have managed more than $100 million in ad spend.
I've seen spectacular successes and equally spectacular failures.
Early in my career I heard a phrase that has been a constant companion ever since — success leaves clues. When I was involved in projects that were wildly successful, I'd look for and capture those clues.
And when I was involved in projects that failed, I'd look for those clues too.
(That may explain why this is a favorite quote I live by — "It is remarkable how much long-term advantage people like us have gotten by trying to be consistently not stupid, instead of trying to be very intelligent." — Charlie Munger)
Decades later, that collection of real-world clues informs my approach to digital marketing.
Like my father and my mother, I am a teacher at heart. My creative collaboration with André earlier this year has given me the opportunity to share what I've learned so far with all of you. It's truly an honor and privilege that I am grateful for every single day.
My father died on August 19, 1999 shortly after returning from South Korea where, weeks before, he had received his 8th degree black belt in Taekwondo (making him one of two Americans to ever hold that rank at that time).
This quote reminds me of him. If you've lost a loved one, I hope it brings some small solace to you as well.
"When your time comes to die, be not like those whose hearts are filled with fear of death, so that when their time comes they weep and pray for a little more time to live their lives over again in a different way. Sing your death song, and die like a hero going home."

— Tecumseh (19th century Native American tribal leader)