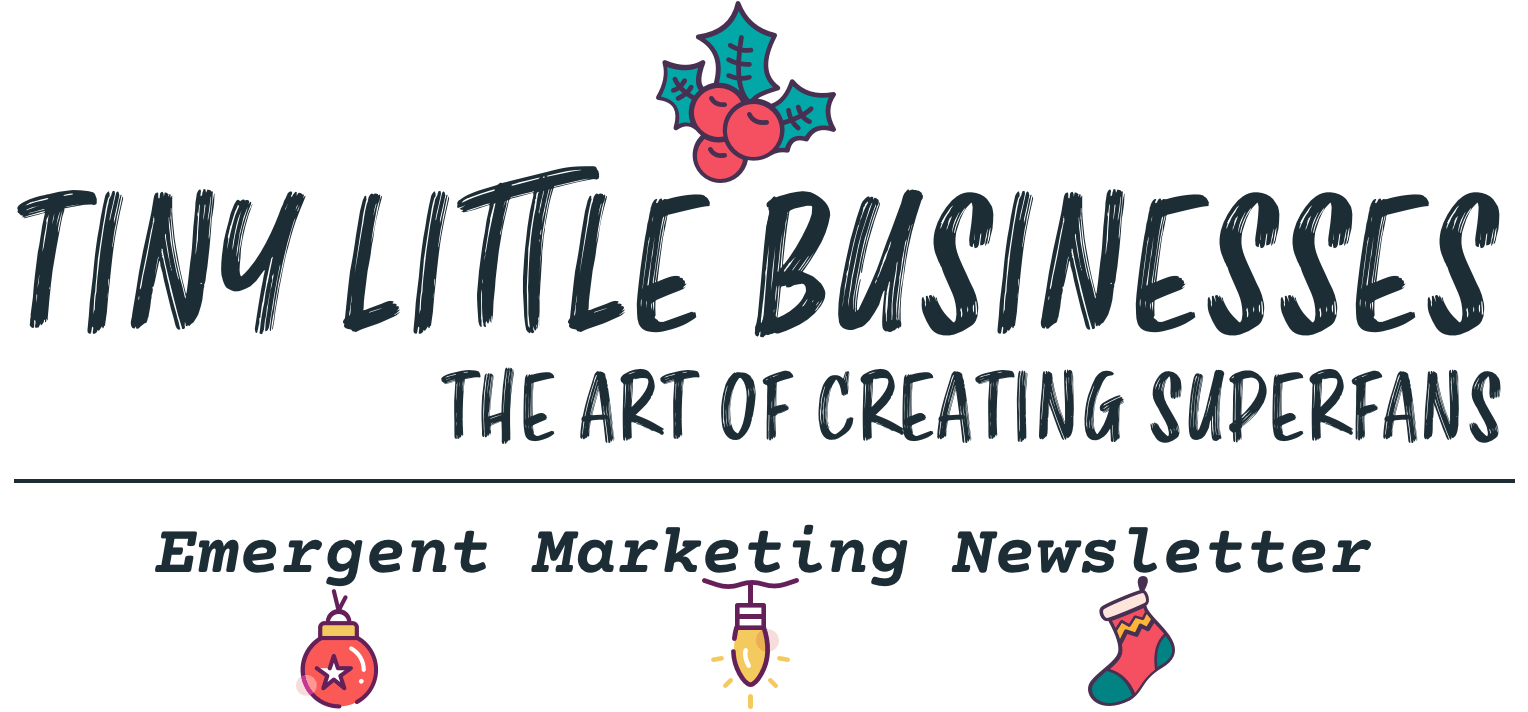 Happy Friday.
This is the email we've looked forward to writing all year…
It's our opportunity to look back at what we've accomplished, link to some of our most valuable content, and closeout 2021 with a gift for all of you.
There's nothing to buy in this email (except for a few links to books we've enjoyed). Like our 2020 Year in review, this email is our way of saying thanks for being on this adventure with us.
We also have a big announcement for 2022 that we're really excited to share.
However, before we get ahead of ourselves, let's talk about 2021…
Building Momentum
One of the most challenging parts of business and marketing is breaking free from inertia and gaining traction.
"Most people are sitting on their own diamond mines. The surest ways to lose your diamond mine are to get bored, become overambitious, or start thinking that the grass is greener on the other side. Find your core focus, stick to it, and devote your time and resources to excelling at it." — Gino Wickman, Traction: Get a Grip on Your Business
We've seen many good marketers sabotage their performance by getting in their own way (we do this too), which can manifest in many ways.
Perfectionism, for example, can (and does) trip up the best of us.
In March, we created a new course — a birthday present from Shawn to André — called Momentum Builder Workshop (Lean Edition).
It's worth your time to read the announcement email if you're interested in how we think about creating offers.
Part of the 'secret sauce' that makes our campaigns so successful is how we create thematic arcs that tie our writing and messages together, pulling readers forward, step by step from beginning to end.
MBW-LE helped students get out of their own way, show up, and ship imperfect work.
Participants created an imperfect FB ad, an imperfect landing page, and an imperfect email sequence, all based on a singular, cohesive narrative arc that tied everything together from beginning to end.
All in six weeks.
We had so much fun with the workshop that we opened enrollment for a second cohort in August. In anticipation of that enrollment, we created a four-part series exploring what it takes to do this work consistently.
If you missed that series or want to revisit it, you can access all four installments — 5,000+ words — here:
Articles
We published a lot of free content this year. Rather than share those articles chronologically, they're more valuable from a systemic perspective.
(Note: Many of these articles include audio narration if you prefer to listen instead of reading.)
Frameworks
Audience Engagement
Creativity
Meta-Concepts
A Marketing Parable
Other
The Art of Email and AoE Live Workshop
Releasing the Art of Email was the crown jewel of 2021.
Years in the making, AoE replaced AutoResponder Madness. It's our best thinking — informed by 40+ years of combined experience — about effective modern email marketing that you won't hear anywhere else.
When we recognize that the overwhelming majority of people who choose to enter our world are unlikely to become customers quickly, an entirely new realm of possibility opens.
Instead of rushing to make a sale that's unlikely to happen (and almost certainly undermining future sales along the way), we can focus on relationships before transactions
The seemingly simple decision changes EVERYTHING that follows.
In tandem with the release of AoE, we took a group of participants through an intense, five-week Art of Email live workshop.
In the process, we shattered our previous records for Q&A calls, with two calls lasting nearly four hours each!
Ideas to Assets

Two years ago, André flew to JFK airport from Gibraltar, and Shawn drove to NYC from Vermont, and we holed up over Thanksgiving week in a two-bedroom suite outside New York City.
During that five-day experience, we created a customer-generating front end for one of our direct response consulting clients.
We documented our creative process, individually and collaboratively, and made it available for Black Friday 2019 as the Ideas to Assets Masterclass.
(You can read all of those original emails here, they're a fun and valuable read.)
As a gift to ourselves, we decided to do a complete update of Ideas to Assets for Black Friday 2021.
That email series was one of our most enjoyable, and based on the responses we received, one of the most engaging.
You can read those emails here (scroll down to the section 'ITA 2021 Series Emails') and start with the first email: The Secret of Secrets (Day 1)…
The theme is modern digital alchemy, turning lead (ideas) into gold (assets). Those emails also show our creative process in action.
2022
We're going to start a new practice in January 2022.
Our first email of the year will outline our plans for the year ahead to keep us transparent and accountable.
We're fond of the saying that no plan survives contact with reality, but we know there is value in the planning process.
This will be particularly important in 2022 because we have a really, really, really big announcement to make. André describes the backstory in his P.S., below.
We'll share the details (and why we're so ridiculously excited about 2022) in the next edition of this newsletter, which we'll send on January 7, 2022.
We're looking forward to taking some time off in December. Nick and Summer — our incredible support team — will be checking emails and letting us know when something needs our attention.
TLB wouldn't be the same without Nick and Summer. They deserve full credit for all of the improvements in our customer service this year. Any lingering issues are 100% our responsibility, not theirs.
As 2021 comes to a close, we both want to wish you and your family a happy and safe holiday season and a happy new year.
It is an honor, and a privilege, to have had your attention.
What a year!
Life is not a journey to the grave with the intention of arriving safely in a well preserved body, but rather to skid in broadside, thoroughly used up, totally worn out, and loudly proclaiming, "Wow what a ride!" — Hunter S. Thompson
Enjoy your weekend!
.
.
P.S. — André:
I don't know what I'm about to write in this section. I'm a discovery writer, so what's about to reveal itself may be surprising to us both.
Each year Shawn and I get this one spot in our yearly "In Review" email, and I'm going to use this opportunity to let it all hang out.
So here goes…
Two wonderfully connected things happened this year from a business perspective, for which I'm immeasurable grateful.
This year marked 12 years of selling a single course across four editions, which has touched well over ten thousand customers. When I reflect on this, the implications are humbling.
But there's always a dark side to anything meaningful, the malevolent antagonist (usually an internal force).
And for the past three years, I didn't think the current version — now named Art of Email — would be birthed.
The undertaking felt too immense for me to tackle, and there were many times I considered waving a white flag and pulling it off the market.
It had a damn good run, after all, so perhaps it was time to put the old bastard out to pasture. A bolt to the head, quick and painless.
And then serendipity intervened.
Fate.
The weirdest part of all, COVID played a leading role in ways that couldn't be made up, not even in Hollywood.
This leads me to thing #2, my business copilot.
2021 was our first full year together…
In some respects, it's a minor miracle we've lasted 18 months.
We're both opinionated about things we care about, we push back a lot, but we're also (always) open to listening and embracing being wrong.
We're smart in different ways and ridiculously dumb in others.
I can only assume our egos, smarts, and dumbness, overlap in complementary ways — a miracle in and of itself.
Without Shawn's perspective and pigheaded professional discipline, Art of Email would never have seen the light of day, and AutoResponder Madness would have likely received the bolt to the head.
I couldn't be prouder of the Art of Email. We wrestled with it like a giant amazonian crocodile for most of 2021 and eventually won out.
As a lifelong learner, being the dumbest member of the creative duo is a real treat. God knows, no one wants to be the smartest person in the room, so I think Shawn got the short straw.
The one negative with Shawn, tho, is the bugger doesn't have a professional off switch. But none of us are perfect. We're dysfunctional in beautiful ways.
But aside from Shawn's lack of an off switch, our collaboration has revealed properties neither of us could have predicted.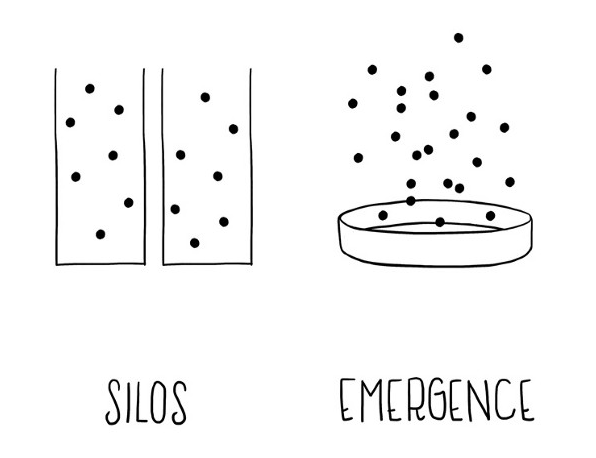 The names Amos Tversky and Daniel Kahneman may not mean anything to you…
But their work introduced the notion of cognitive biases and illusions, and their contributions to behavioral economics and decision-making have been called "breathtakingly important."
That's how Michael Lewis described their collaboration, which is the subject of his book, The Undoing Project (2016).
The big insight was that the work produced through their collaboration was not only completely different than either of them had done on his own but orders of magnitude better.
In a touching and wonderfully understated description of their work together twenty-one years after Amos Tversky died, Kahneman described their collaboration, saying:
"… we did work that was the best that either of us did over our long careers, and both of us did pretty good work, but together we were quite special…"
1 + 1 does not equal 2 with a good collaboration, and we've seen this play out in unpredictable ways over and over.
For the Art of Email, 1 + 1 was more like 11. No question about that.
Then on November 3rd, it happened again, like a lightning bolt from nowhere.
And this 'lightning bolt' moment will forever change TLB and how you interact with us.
We had been riffing for about 30 minutes on one of our twice-weekly standup calls, and then…
BOOM!
… at precisely 31 mins, I unpacked the chronological moment "something" happened. (I have to be vague here on purpose. We'll reveal the details in January.)
… then, at 35m44s, in response, Shawn riffed for 7m17s, when his thinking coalesced into, "but, the other thing you said is really really really interesting … and this is very much a TOL exercise … so let it percolate … complexity scaled in a non-linear way … we don't actually sell…"
And at 44m01s, it fell out of Shawn's mouth, an idea rough and spiky, but at that moment, we both knew it was something special, emergent, the birthing of a little bit of magic that didn't exist before.
Until that moment, TLB in 2022 would have been, fundamentally, much as it is now…
But now that'll all change.
For the better.
Ideas are fantastic, but they're static; they have no momentum on their own.
It's easy for world-class ideas and concepts to get "stuck" in a course, locked away from people who, if they only saw them within the context of some other ideas, the lights would "turn on," and Breakout moments happen.
I'll leave it at that for now. On January 7th, we'll reveal what we have planned for 2022 and well beyond.
I'll end with some "best of" resources and purchases over 2021 (and some things I'm most looking forward to in 2022).
Best Overall Podcast Show
If I could take one podcast show to a deserted island for a year, what would it be?
The list of podcast shows I love is numerous. There's something magical about listening to profoundly nuanced long-form discussions on interesting and varied topics from people orders of magnitude smarter than me.
On balance, The Tim Ferriss Show would come with me to the island. IMHO it's one of the standout free resources on the planet.
Person Worth Following
There are two, both equally impressive in different ways.
Both have podcasts — JP's is free and goes back years (and years!). It's a never-ending fountain of knowledge. SH's is paid but is worth 1000x the cost.
They both have books worth reading.
Each time I listen to either of them, my head hurts, and I recognize how ridiculously little I know, but at the same time, I get a little smarter with each interaction. That's a win.
Most Valuable Process
Easy.
Journalling (see Accidental Genius for ideas on form).
I journal for self-reflection, self-therapy, externalizing thoughts and ideas, and discovering sh1t I didn't know.
I journal in longhand, both in paper notebooks with an HB pencil and digitally on my 11″ iPad Pro in Noteshelf.
Thing I'm Most Excited About in 2022?
Business: it's the changes we'll be making as of January 2022. Our January 7th EMN will reveal everything.
Personal: Synthesis Institute in Amsterdam…
It's a legal psychedelic retreat, and I'm excited to have my first 5g ego-melting experience, hopefully in the summer.
I think I've said enough.
Over to Shawn.
.
.
P.P.S. — Shawn
Unlike André, there's no way in hell I'm going to start writing and see what happens…
I always write from a lead. I have no idea how he does it.
I love numbers, and just for fun I took some time yesterday to see how many words we published in 2021.
170,000.
That doesn't include dozens of hours of screencasts, videos, and recorded calls and conversations.
What was the secret? It's simple really. It's the same secret I tell aspiring martial artists on their way to black belt.
If you want to get really good at something, all you need to do is embrace the EFD Practice Method. No, there isn't a course to buy — no sales page — and no opt-in.
I'll just tell you what it is because we're all friends here.
EFD — practice Every … Day.
(When I explained this to my daughter, who is on her own journey to black belt, she said "wait…what's the F for…? OH..!)
The PG-friendly version of the EFD Practice Method is described best by one of my favorite quotes, from the Greek poet Archilocus.
"We don't rise to the level of our expectations, we fall to the level of our training."
That's similar to another idea I mentioned repeatedly during the AoE Live Workshop Q&A calls — "Every day we sit down to a buffet of consequences."
(I don't know the attribution for that quote other than I'm certain I didn't think of it on my own.)
André covered a lot of ground I don't need to repeat. Except, of course, his "short straw" comment which is ridiculous.
Every day we challenge each other in new ways. Whatever I've accomplished in 2021 wouldn't have been possible without him.
And any value I've contributed has his fingerprints all over it.
Some days I'm the hammer, and other days I'm the anvil. Both are necessary to forge iron.
I received this email last week and I've been thinking about it ever since.
Hey Shawn — I was waiting for this email, your email, but I'm sad or disappointed, I'm not sure, I was expecting that you would talk about how to ask the right questions, in one of your recorded talks with André in the Momentum Builder Workshop you talked about it and since then I wanted to know more about, tbh I forgot about it and then a few weeks ago I realized I needed to learn to ask better questions to complete a project I'm working on, then when you announced this email series I was happy because I was sure you were going to talk about that matter. — Raúl C.
As a practicing Stoic, I appreciate that Raúl didn't lead off with any flattery … straight to the sadness and disappointment.
That's good training to keep my ego in check.
Identifying and asking really good questions is a skill that takes years to develop. Or, in my case, decades.
I wish there were a magic formula other than the EFD Practice Method mentioned above.
However, I'll share a few thoughts, and some examples of my favorite questions.
Some people collect stamps. Others collect expensive cars.
I collect questions. Pages and pages of questions. Is that weird? Sure. But guess what, we're all weird. I just choose to embrace my crazy.
One of the most powerful questions I've used habitually is:
What are we actually trying to accomplish?
I ask myself this question all the time. When I worked with clients, I asked that question to frame every conversation.
I think about it before everything I write.
It's really easy to answer incorrectly. Don't just focus on the surface level — dig deep. You're looking for the irreducible core answer.
For example, every time I hear someone bragging about how they reduced their cost-per-lead, I want to ask if they're in the low-cost-per-lead business.
Is low cost-per-lead what we're really trying to accomplish..? (Or are we in the happy-customer-business?)
Trust me when I say that this one question can dramatically change your life. Be prepared that it may annoy the hell out of people, but that's often the price of effectiveness.
That leads me to another favorite question.
Do my behaviors match my intentions?
I'd like to lose 15-20lbs, but hold on while I finish eating this donut…
Seems like there might be a mismatch between my intentions and my behaviors.
This is a great diagnostic tool. The key to its effectiveness is answering honestly and dispassionately. The answer is either yes or no. It's not no, but…(fill in the blank with excuses).
Yes. Or no. Period.
And another favorite…
What would my calendar and receipts say about my priorities?
Again, this requires honesty. If improving my writing skills is a priority, but I've devoted no time and no money to doing that, is it really a priority?
Here are a few more favorites that I'll include for you to ponder without explanation.
Does the desire for what I am currently seeking enrich or detract from my life? (Inspired by Anthony de Mello.)
Are there forces I'm fighting that I could be using instead? (Inspired by R. Buckminster Fuller.)
Am I working on something or am I getting through something?
What is the definition of success I'm working toward?
If I had to do tomorrow over again, what would I do? (Inspired by Viktor Frankl.)
That last one is a long-time favorite, and I've written hundreds of Morning Pages in response.
My list of favorite questions is a dialogue partner. When I'm stuck, a quick review always points me in the right direction.
And no, I won't share that list. It's deeply personal and uniquely valuable to me.
If I may offer one piece of advice, start your own list of questions that are meaningful to you, consult it often, and see where that leads.
I'll close with a favorite quote from American poet e.e. cummings.
"Always the beautiful answer who asks a more beautiful question."
See you next year…