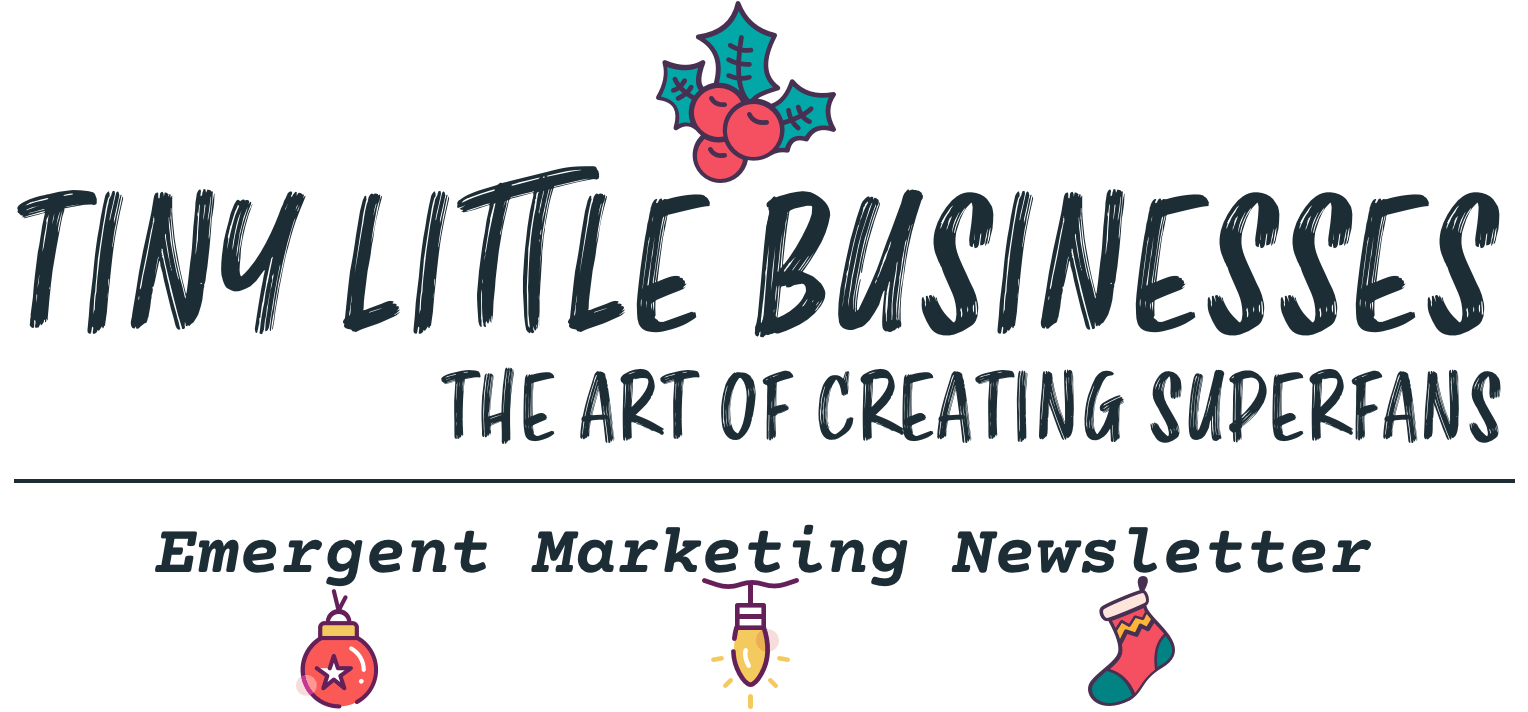 Happy Friday.
As 2020 comes to a close, we both want to wish you and your family a happy and safe holiday season, a festive Christmas, and a happy new year.
This will be our last newsletter in 2020. We'll return in January 2021.
We appreciate and value your attention enormously. As a thank you, and our Ho Ho Ho! Xmas gift to you, we wanted to make this final newsletter of 2020 an EXTRA SPECIAL 'Best Of' Edition.
(There are 56 odd links in this email, and each one leads to something special and thoughtfully hand-picked.)
Looking back on 2020, we thought it would be valuable to draw attention to the high-leverage ideas we've shared and the unexpected insights that have emerged for us as a result.
We've published the equivalent of several novels worth of free content in 2020, including sixty-one emails (75,000+ words), four free courses (nearly 30,000 words), and a 'modern marketing MBA' compilation of resources arranged as an eight-week (free) course.
We recently re-read all of those emails, reviewed our free courses, and organized the ideas thematically.
One final note before we share those resources — there is nothing to buy in this email (except for the few book recommendations). This is our gift to you.
Enjoy!
Emergent Marketing
In the summer of 2020 we named our philosophy of business (and renamed this newsletter) Emergent Marketing. The components of EM are:
An Infinite Mindset
Businesses are Systems from which Results Emerge
Create Customers Before Money Changes Hands
Think in Probabilities, Not Absolutes
Engineer Momentum by Creating a Flywheel
We (recently) turned Emergent Marketing into a free email series mini-course that is delivered over a week. If you're interested in that, you can subscribe here.
Emergent Marketing is the 'why' behind what we do.
It represents the foundational principles guiding our work and the decisions we make.
Why isn't enough, however. To transform theory into action, we need to transition from why to what and how.
The Durable Business (Part I, Concepts)
Building a business isn't enough. Instead, we believe in the importance of building a durable business, which we explained like this:
We chose that word — durable — carefully. The characteristics that make a business durable include:
It's built to last for the long term (meaning it will create value for you and your customers next week, next month, next year, next decade, and beyond).
It produces results day after day, in good times and bad.
It is optimized for what matters most to you as the business owner. (There is no one-size-fits-all template.) Strategic Coach founder Dan Sullivan calls these the 'four freedoms' (time, money, relationships, and purpose).
It improves consistently, gaining momentum over time.
You need three non-negotiable ingredients to create and sustain a durable business: awareness, engagement, and conversion. In more familiar terms:
Awareness = traffic.
Engagement = leads/prospects.
Conversion = sales.
Resources:
The Durable Business (In Action)
After articulating 'why' and 'what', we transitioned to explaining 'how'.
For Black Friday 2020 we announced that Lean Business for Creators would be replaced with a new course which we named The Durable Business (TDB).
TBD is a framework with four main parts:
Those four parts exist within a momentum-generating flywheel (explained in this email) where each step leads invariably to the next.
Here's a visual explaining how the components work together as a system: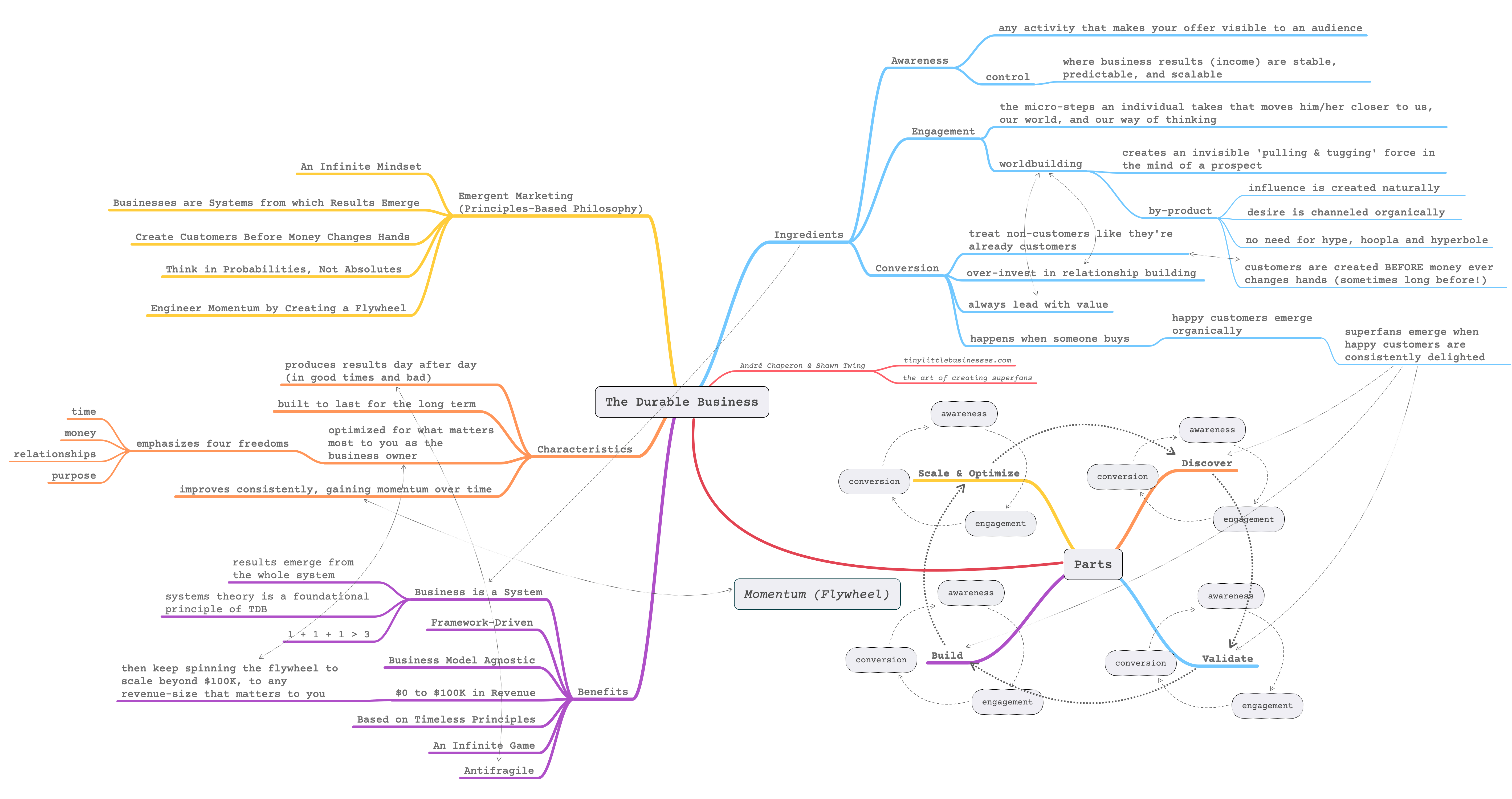 Other Resources:
Free Courses
We created three free courses in 2020, and updated a very popular course André first wrote in 2011. Those courses can be found here:
Mini-Marketing MBA
The weekend before we closed enrollment for the first cohort of The Traffic Engine we were concerned that the excitement from that email series might encourage some people to buy who shouldn't.
To prevent that, we compiled our list of 'greatest hits' marketing resources into an eight-week Mini-Marketing MBA course and gave that away in our final email before enrollment closed.
(We liked that idea so much we've given something away for every enrollment since because we only want our customers to buy when it's right for them.)
You'll also find several interviews we did this year. Don't miss the interview with marketer-philosopher (and our dear friend) Jonathan Boyd. It's a masterclass in what it takes to build a business with integrity from $0 to multiple seven-figures in record time.
Context matters, so we won't link to those interviews directly — you'll find them when you read the content listed above.
Finally: There are Easter eggs that lead to deep rabbit holes, sprinkled throughout our public-facing site. When you find them, you'll know.
"You've totally shifted my perspective on marketing business and life itself." — Ed Robinson
"I feel like I've finally found someone who teach marketing the way I want to do marketing myself. So excited to learn and implement." — Mui Tsun
"As usual, these emails are a piece of art!" — Giacomo Verdez
"… I wanted to thank the 2 of you for liberating me from the marketing prison I had so carefully built over the past 5 years. I truly feel free for the first time in a long time to walk the path I've always wanted without fear of missing out." — Anita Toth
Thanks for your attention in 2020. We're looking forward to creating even more value for you in 2021.
Happy holidays to you and yours. Keep safe.
See you in 2021.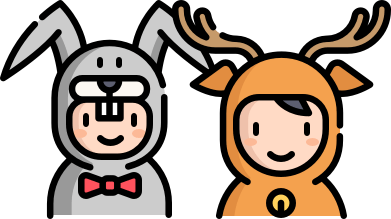 André & Shawn
(In the spirit of Christmas, you'll only get us dressing up in our Xmas gear and looking ridiculous once a year.)
P.S. — André:
I love seeing other people's 'best-of' lists, so I thought I would share my best purchases of 2020.
I have a pathological love for books. They're the ultimate form of leverage, like an Archimedes lever, and all for ten bucks. So I buy more books than I can ever read, but I can't help myself. This is the shortlist of my (most impactful) favorite reads this year:
I loved this book. It's about solving creative problems. Lee Zlotoff is the award-winning writer of the iconic MacGyver TV series.
I first heard about Range from Rich Roll's podcast. It really resonated with me. It's a read I enjoyed because it answered questions I've had about myself (being multi-passionate). Last week I noticed that Bill Gates listed it as one of his five best reads of 2020.
I picked this up last year by didn't read it until a few months ago. It unpacks a wealth of ideas and strategies to achieve extraordinary results that tie back to one controlling idea: will it make the boat go faster? For Shawn and I, our controlling idea is: will this activity move us closer or further away from creating a happy customer?
I've had both in my library for perhaps three years. Lockdown gave me the time to enjoy both of these (the Audible versions). The former is a brief history of mankind, and the latter, a brief history of tomorrow. I learned so much, discovered meaningful insights into our past and what the future may look like. Loved these. So did Bill Gates.
(A few weeks ago, after hearing Tim Ferriss interview Yuval, I picked up Sapiens: A Graphic History. I grew up on Tintin and Asterix comics, and the graphic edition of Sapiens is beautifully done.)
Last year I read The Oxygen Advantage (Patrick McKeown), which rocked my world. I've now been mouth taping for over a year (don't ask!). So when I saw Breath earlier this year, I purchased it and listened to it on one weekend. I can't express how game-changing these two books have been for me.
Another 2019 purchase that didn't get 'cracked open' until earlier this year. It's the best book on the craft of storytelling I've read (and I own many). What makes this book such a winner for me is that it's the best of everything about the craft of storytelling, compressed into 200 odd pages.
This is a fiction book. Richard Osman is a TV presenter in the UK. He decided to write a book during lockdown (his first book). Apparently, while finding a publisher, nine ended up in a bidding war to acquire the publishing rights. He penned a seven-figure deal, and if that wasn't the stuff of fairytales, he only went and sold the movie rights to Steven Spielberg's company. All this is to say that the book is epic (the audio narration by Lesley Manville is exceptional).
This is an Audible exclusive. It's more of a course than a book. I am a massive fan of Michael Gervais; his podcast, Finding Mastery, is one of my top-five. I'm about halfway through this. The course is a blueprint to unlock your authentic self, explore the edges of your potential, and live a life of purpose and meaning.
The link above is direct and not an affiliate link. COVID has caused me to not want to visit the gym and risk infection. So when Shawn mentioned to me he had just purchased this weird bar thingy, I ordered it the same week. It's a $650 piece of kit (if you get the Elite band). This has been transformational for me (Anita also does it). It's probably one of my best purchases in the past decade. I will finish the 12 Week program on Saturday. I can't imagine what I'll look like after a year. Plus, I save paying the gym 100 bucks a month. What's not to love?
I had to wait 13 weeks to get this due to the sudden demand for at-home workout machines. It has its home in the entrance to my home office. I love this machine. X3 Bar (six times a week) + rower (two 45-minute Zone 2 sessions) has been my training protocol for the past three months. What I love about these two exercises is that they're sustainable long-term. I can see myself doing this year-round.
Catch you in 2021. We're excited. You would be too if you could see what we have planned for you.
P.P.S. — Shawn:
Most of the entries in André's 'best of' list above would be on my list too, so I'm going to take a different approach.
Here's my 'best of' list of podcasts I listened to in 2020 (with a few videos, an audiobook, one book, and an article as well).
I consume an enormous amount of information and these are the top 5% that resonated most with me across a wide variety of interests.
Each one is exceptional.
Learning and Creativity:
Health & Wellbeing:
General Interest:
I would have to write a book explaining why each of these is great. Do yourself a favor and trust me. Pick one that looks interesting and see where it leads.
We have so much in store for you in 2021 and I'm really tempted to share a few hints … but what fun would that be?
See you next year …